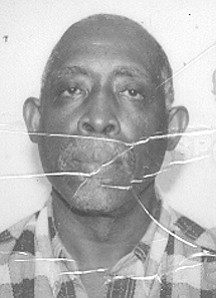 Bruce "Hammer" Alphonso Deveaux
unknown - unknown
Funeral service for Bruce Alphonso "Hammer" Deveaux, 75 yrs., a resident of Foxdale Subdivision, will be held at Church of God Auditorium, Joe Farrington Road, on Saturday 1st November, 2014 at 11:00 a.m.  Officiating will be Rev. Frederick Kelly.  Interment follows in Woodlawn Gardens, Soldier Road.
Left to cherish his memories are his wife: Lucinda; 9 sons: Kendal, Dwayne, Gilbert Sr., Brent, Colin, Gifford, Sean, Mark, Harold & Anthony Deveaux; 7 daughters: Carolyn, Deidre, Patrice, Paulette, Theresa, Jennifer & Harriet; grandchildren: D'Alton, Troy, Laron, Alexia, Kendra, Aaron, Kristian, Janae, Omar, Jamal, Magic, Sharelle, Stacy, Samantha, Shantavia, Shantel, Katera, Lance, Gifford Jr., Gia, Gianna, Payton, Jaylyn, Antonio, Kesha, Kera, Renaldo, Gilbert Jr., Keajae, Anthonise, Antonia, Emily, Delray, Karen, Jennifer, Kimberly, Kevin, Chevez, Arnold, Mia, Bailey, Shakel, Kelisa, Kelvin Jr., Brian, Bernard, Shakera; grandson-in-law: Delshan Allen; great grandchildren: Jamaal, Darika, Darenika, Darnisha, Valencia, Omar, Omara, Lanisha, Jaziah, Jasiah, Anton, Tamia, Kenneth, Kenton & Lattyn; brothers: Tryman & Kendal Deveaux; sisters-in-law: Ann Marie Deveaux & Candace Kelly; nieces: Tryphenia Deveaux, Veda King, Tanzania Kelly, Rhonda & Nicole King, Melanie Sands, Melva Johnson, Edith Taylor, Gloria Bernard & Elizabeth Deveaux; nephews: Mario Sr., Lavardo, Derek, Sean, Dwaney Rolle, Harold, Thomas, Jonathan Bostwick, Eddison Burrows, Wentworth & George Manson & Jerome Wood; grand nieces & nephews: Lashantah, Haley, Kevin Sr. & Mario Jr.; great grand nephew: Kevin Jr.; daughters-in-law: Roxanne, Andrea & Eleanor; sons-in-law: Marco Gomez, Miquel, Frank & Sean; special friends: Craig Flowers, Ivan James, Prince Stubbs, Oswald Isaacs, Anthony Fisher, Amanda Drummond, Jeffrey Cooper, Peter Hall, Earl Fountain, George Braynen, Barron Fox, Mr. & Mrs. Randolph Minnis, Mr. & Mrs. Anthony Sampson, Sir Arlington Butler, Dr. Robin Roberts, Mr. & Mrs. Trevor Whylly, Cleveland Stuart & family, Herman Dollah Taylor, Patrick, Sheila Deveaux, Patrick & Lorraine Evans; other relatives & friends: Inez kelly & family, James Smith & family, Susan Hall, Inez McKenzie, Marion Rolle, Elaine Sands, Brian, Tevan, Rose Campbell, Erika, Curlene mcQueen & family, the former staff of Imperial Drugs/Deveaux Drugs, Rev. Frederick Kelly & the Officers & Members of Epipany Methodist Church, Management & staff of Burns House, Management & staff of Outback Steakhouse, the Cable Beach Vendors Association, Atlantis Resort House-keeping, Coral Towers & Beach Towers (rooms division), Royal Bahamas Police Force, Bahamas Correctional Centre, the community of Foxdale Subdivision, the community of Market Street & Woods Alley, Margariette Burrows & family, Ted Berry, Marlene McKenzie, Cynthia & Judy Johnson, Francis Miller & family, Ruthlane Saunders & family, Vernell Newton & family, Dawn Whylly-Albury, the Knowles family, the Albury family, the Bodie family, the Blackman family, Terah Johnson & family, Florence Gilbert & family, Allison Bethel & family, Bishop Dudley Kelly, Jennifer Ward & family, Grethel Williams & family, Charles & Vernetha Adderley, Steadman Johnson, Donna Delancy, Leroy, Tredville, Gerald Kelly, Sherry &Marilyn.
Friends may pay their last respects at Demeritte's Funeral Home, Market Street, from 10-6:00 p.m. on Friday & on Saturday at the church from 10:00 a.m. until service time.