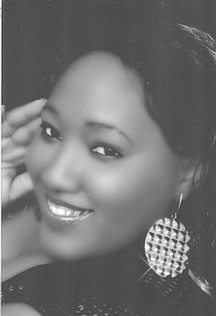 Chiquita Laveka Morris McCoy
unknown - unknown
Funeral service for Chiquita Laveka Morris McCoy, 37 yrs., a resident of Brougham Street, will be held at New Covenant Baptist Church, East West Highway on Saturday 1st November, 2014 at 11:00 a.m.  Officiating will be Rev. Trajean Jadorette.  Interment follows in Woodlawn Gardens, Soldier Road.
Left to cherish her memories are her Husband-Ryan McCoy Sr, Son-Ryan McCoy Jr, Daughter-Raven McCoy, Mother-Marina Morris, Father-Jocelyn Donatien, Sister -Philomise Donatien, Brothers- Rashad and Fred Donatien, Niece- Toria Thompson, Nephew- Dereck Duncombe, Mother in law- Theresa Brown, Grandfather-Neville Morris and his wife Beulah Morris, Aunts- Helen, Kathleen, Rosemarie and Indiana Morris, Diana Love, Debra Mackey and Sybrina Bellot, Uncles- Charles Sr, Neville, Leon, Deon and Lavardo Morris, Grand Aunts- Mary and Delores Davis, Shirley and Rev Dorothy Brown, Mary and Dorothy Bain, Louise Duncombe, Marina Johnson, Helen Sturrup, Victoria Charles and Judy Wood, Grand Uncle-Walter Davis, Brother in law- Christopher McCoy Sr, Sisters in law- Joyann and Christabelle McCoy, Numerous cousins- Alfreda, Mandelia, Antaneia, Charles Jr, Sherella Sturrup and family, William Jr, Alyssa Bullard and family, Carlos, Leslie, Willandria, Vincent, Chuck, Charlton, Storm, Charvese, Charlene, Tia, Neville Jr, Melisha, Iesha, Nelisha, Danisha, Lily, Maxine Sturrup and family, Letisha Henderson and family, Melvin and Theresa Davis and family, Dennise Collie and family, Jacqueline Rolle and family, Wellington, Ricardo and Calvin Davis and family, Carlia, Eathen, Judah, Oryan, Unique, Tario, Chelsea, Zionique, Tanya, Lisa Davis and family, Fredericka, Veronica, Michael Saunders, Grace Brown, Ruth Albury, Esther Bethel, Tracey Dean, God mother-Earnestine Spence and Agenor Iranie Pierre, God children-including Navarrielle, Javanique, PJ, Bing, Neisha, Israel, Alex, Antonya, Many other family and friends including- the Mr. Photo family, Brougham Street family, Mr. Leslie Sands, Kathleen Gibson and family, Kimberly Farrington and family, S C McPherson class of 1994, Mervin Fines and family, McCoy family, Brown family, Stephon Albury, Sherika, Patricia Addeley and family, Linda Storr and family, Alicia, Zenon, Evelyn Ferguson and family, William Clarke and family, Passing Jacks/Cudda Bay family, Meronacer Rolle-Morley and family, Dwight Williamson and family, Andy Mackey and family, Abigail Rolle and family, other friends and relatives too numerous to mention.
Friends may pay their last respects at Demeritte's Funeral Home, Market Street, from 10-6:00 p.m.on Friday & on Saturday at the church from 10:900 a.m. until service time.