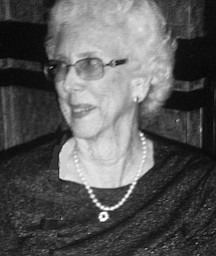 Agnes June Maura
unknown - unknown
A funeral service for Agnes June Maura, O.B.E., M.V.O., of Vista Marina, Nassau, The Bahamas, will be held at Sacred Heart Roman Catholic Church, Shirley Street, Nassau, on Monday, 3rd November, 2014 at 4:00 p.m.
Father Anselm Russell will officiate and interment will follow in Ebenezer Methodist Cemetery, East Shirley Street, Nassau.
Agnes June Maura, the only child of the late Lionel H. & Nellie Maura, was born in Nassau on the 7th June 1933.
 
She attended school at Queen's College and upon leaving school in 1949 she joined the staff of The Royal Bank of Canada where she worked until February 1955. In April of 1955, she joined the Colonial Secretary's Office, which later become the Prime Minister's/Cabinet Office. She was employed through various stages of governmental development, which culminated in her appointment as Deputy Permanent Secretary. During her term in office, she was Co-ordinator of National Events such as the annual Commonwealth Fair, visits by Members of the Royal Family and Heads of State. In addition to her duties in the Cabinet Office, she was appointed the female Clerk of The Senate. Prior to her retirement in 1983, she served as Conference Officer for the 28th Commonwealth Parliamentary Association Conference.
 
In 1975, June was appointed a Member of the Royal Victorian Order (MVO); in 1982 she received the Bahamas Chamber of Commerce Award for distinguished service to The Commonwealth of The Bahamas in the field of Government. Upon her retirement she became an Officer of the Order of the British Empire (OBE). In 2009 she was an Honouree at The Bahamas Historical Society's Golden Jubilee Gala Banquet.
 
After June retired in 1983, she went on to indulge in her passion for Bahamian History, spending hours in the Department of Archives reading the old documents. This later led to researching.  She succeeded Dr. Paul Albury as President of the Historical Society and remained President until 1989. She continued to serve in various capacities in the Society.  
 
June is survived by her aunt and best friend, Joanne Maura, Peter and Jenny Maura, David and Donna Maura, Blake, Jonathan and Marisa Maura, Thelma Knowles and family, Joey Kemp, William "Billy" and Edna Kemp and family, Doreen Kemp and family, cousins in Canada, the United States and Abaco; friends Alfreda Johnson and family, Cheryl and Garth Sims, Cathy Moultrie and Benjamin Moultrie-Grant, Kim Carey & family, her friends at Sacred Heart Church, the Bahamas Historical Society, Museums Corp & the Department of Archives and her four-legged friend Cleo.
 
In lieu of flowers, donations can be given to the Bahamas Historical Society, P.O. Box SS-6833, Nassau, or the Bahamas Humane Society, P.O. Box N-242, Nassau, in June's memory.
 
It was June's request that bright or pastel colours be worn.