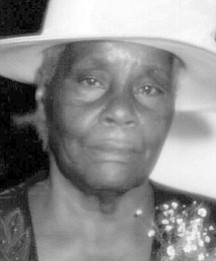 Beulah Smith
unknown - unknown
Funeral Service for Ms. Beulah Smith, age 86 years, a resident of Mars Bay, South Andros will be held on Saturday November 1st, 2014, at 10:00 a.m., at St. Mary the Virgin Anglican Church, Mars Bay, South Andros. Officiating will be Rev'd Fr. Delano Archer. Interment will be made in Mars bay Public Cemetery, Mars bay, South Andros.
Cherished memories will always be in the hearts of her Daughter: Shaunette Bain; Son-in-law: Nathaniel Bain; Grand Daughter: Najae Bain; Two Grand Sons: Dominic & Zion Bain; One Sister: Monica Nixon; One Brother: Wilbur Smith; Special Children: Margaret Duncombe, Linda Burrows, William Duncombe, Barbara (Debbie) Rolle, Kathleen Zonicle, Leanore, Cleveland, and Clayton Duncombe, Gwendolyn Hendfield, Sandra Duncombe-Knowles, Marcia, Dwayne and Trevon Duncombe, & Michelle Thurston-Sampson; Two Sisters-in-law: Elsie Smith, Delphine Duncombe; Brother-in-law: Rev. Reuben Duncombe; Nieces: Veronica Smith, Florine Smith, Linda Nixon, Patsy Grant, Daphne and Aralyn Nixon; Lenny Bethel, Renadell Lockhart, Eunice, Cyprianna & Portia Smith; Betty Moss, Gerona Adderley, June Scott, Carmel Penn, Michelle Knowles, Charmaine Bain, Deann Mackey, Bekenya Smith, Andrea Smith , Elcina, Derrith, Alexis, Sheryl, Tia, Garbrielle and Cleandra Duncombe, Daphne & Gina Nixon, Erin Kelly; Julie & Gem Spencer, Stephenie Collie, Anya Hanna, Aliyah & Corina Henfield, Aliyah Lockett, Kenya Knowles, Lovetia Forbes, Genae Ferguson, Sandrine Cumberbatch, Yvette Grant, Oralee Smith (Joy, Lornie, Kathie, Brenda and Junette – children of Mrs. Sybil Marche); Sheva Nixon, Tamika, Tamara & Tangela Lockhart; Maris Wilchombe, Marsha, Deanka, Toosdai, Shantlee, Clemia, Rodesha, Shantae, Randee, Denise & Camille Adderley, Ronique, Rhonell, Tyler, Ebony, Carline, Allison and Keisha; Nephews: John Harris, Edward, Clyde, David, Timothy, Arlington, Spurgeon and Grevan Nixon; Gene, Rollie, Ron, Randy, Peter, Rodney II and Rodney III Smith; Alton Rolle, Richard Knowles, Tyrone Sr., Devon, Valentino, Tyrone Jr., and Latario Burrows; Maurino & Maurice Hanna; Roger Major, Juan Ferguson, Kenneth Henfield, Lance & Darius Kelly; Anthony Sampson, Anthony Lockett Jr., Glenn, Aquino, Adrian and Aquille Zonicle; Mikhail, Clayton Jr., Ashton, Jayden, Dario and Dino Duncombe, Kristoff Knowles, Valdez, Valden & Valentino Fernander; Marvin, Rayvon, Gemo, Christopher & Montique Moss, Jody, Camron, Jamal, Lamont, Vandyke & Christopher Adderley; Ricardo Forbes; Cousins: Lenneth Brozozog, Althea Wood, Ena Sands, Otis Munroe, Shirley Sands, Lennor Munroe, Ola Munroe, Eula Nixon, Vivian, Pam Duncanson, Edith Toote, Winsett Kelly, Craig & Luther Miller; Two God Sons: Ross and Ron Smith; Other Relatives & Friends: Children of Lynan & Mable Smith, Nurse Valdamae Rahming & Family, Virginia Forbes, Children of Delphine Duncombe, Ruth Meadows and Family, Zette McIntosh, Rosemary Duncombe & Family, Patricia Cooper & Family, Vernice Minnis & Family, Ivan Forbes & Family, Marilyn, Debbie & Nathalie McKenzie, Wilfred Andrews & Family, Anatol Young & Family, Anthony Nixon, Rev. Leo Forbes & Family, Granville Brown & Family, Nora Cooper & Family, Eulease Bain & Family, Father Delano Archer and The Family of All Saints Parish, Pastor & Members of Mt. Zion Baptist Church – Jones Town Eight Mile Rock, St. Paul's Baptist Church, Deep Creek, South Andros, Grand Bahama, Pastor & Members of the Church of the Nazarene – Eight Mile Rock, Grand Bahama, Catherine Roker & Family, Bloneva Kemp & Family, Rev. Dr. Anthony J. Carroll and the Antioch Native Baptist Church Family, Christ The King Parish and Cupid Angels, Birthday Club, Ridgeland Park, Nassau Bahamas and the Entire Community of Mars Bay, South Andros and others too numerous to mention.
Relatives and friends may pay their respects at Cedar Crest Funeral Home & Crematorium, Robinson Road and First Street on Thursday from 12:00 noon to 5:00p.m and on Friday from 10:00 a.m. to 12:00 noon and at the church in Mars bay, South Andros from 4:00 p.m. until service time on Saturday.