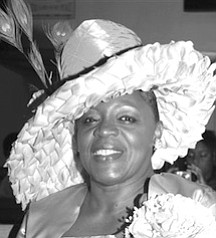 CARNETTA DELORES BROWN
unknown - unknown
Funeral Service for the late CARNETTA DELORES BROWN age 68 years of Malcolm Allotment will be held on Saturday, November 1st, 2014 at 10:00am at Transfiguration Baptist Church, Market & Vesey Streets. Officiating will be Rev. Dr. Stephan E. Thompson assisted by Rev. Brazil McDonald, Rev Sherma Bowe and other Ministers of The Gospel. Interment will follow at Lakeview Memorial Gardens, J.F. Kennedy Drive & Gladstone Road.
Loving memories will forever linger in the hearts of her Son: Shon Missick; Daughters: Theresa Brown, Geneva Morley, Janet Brown-Williams, Susan Pennerman & Michelle Lewis; Adopted Daughter: Janet Joseph; Sisters: Apostle Carmel Gibson, Paula Mae Bowleg, Patricia Rolle, Veronica Lang, Agnes McNeil, Arlene Ellis, Donna Taylor & Denise Cooper; Brothers: Patrick & Roderick Taylor; Sons-in-Law: Pastor Williams Pennerman Sr., Michael Lewis Sr. & Bertram Morley Sr.; Daughter-in-Law: Nicola Missick; Brother-in-Law: Leslie Bowleg; Sister-in-Law: Latricia Coakley; Aunt: Merlis Sweeting; Grandchildren: Bertram Jr., Akera, Precious & Crystal Morley, Kevin & Dominique Smith, Calvin Strachan, Jillian Munroe, William Jr., Shon, Een, Tashell & Terron Pennerman, Michael Jr. & Michaela Lewis, Kathrynann, Shonique & Latario Missick, Antonio & Aaron Gilbert; Great Grandchildren: Antonio, Alexis, Angelica, Angel, Anthony, Kevianna, Kevin Jr., Lalia & Atrell Smith, Trinity Pennerman, Romell Johnson Jr., Athan Miller, Brayden Morley, Kaylah & Kaden Swaby; Nieces: Katisha & Vanda Coakley, Kisha & Karlicia Rolle, Sonjia & Showndale Miller, Sophia Moore, Bridgette Wright, Sonia, Darell & Kendra, Lynette & Margo Ellis, Eddricka, Lashonte, Hazel & Madison Taylor; Nephews: Carlton Rolle Jr., Jamin Bowleg, Ken Mullingsm Theophilus, Rudolph Jr. & Travis Coakley, Shawn Hepburn, Stewart, Eugene & Anthony Laing, Rang & Nashad Ellis, Anwar, Demond, Desmond, Demetri & Devonte Taylor, Omar, Tex & Dennis Cooper; Grandnieces: Shoniqua Miller, Kayla Rolle & Faye Brown; Grandnephews: Glendale & Stephen Miller, Israel Cartwright, De'Shon Rolle & Carlton Rolle III; Other relatives & friends: The Coakley Family, Oswald Fowler & Family, Nelson Cartwright and Family, Dianne Bowe and Family, Elsimae Cleare and Family, Deborah Rahming & Family, Kevin Smith Sr. and Family, Theresa Poitier and Family, Levinna Rolle and Family, Michaela and Melissa Fox and Family, Carnetta Nixon and Family, Bloneva Poitier and Family, Eunice Occident and Family, Shirley Smith and Family, Dorothy Sands and Family, Leonard Neely Jr., and Family, The Entire Malcom Allotment, The Housekeeping Staff of Nassau Beach Hotel, The Cordeaux Avenue Family and The Nurses and Staff of Princess Margaret Hospital Female Medical II and other relative and friends too numerous to mention.
Viewing will be held in the Serenity Suite at Restview Memorial Mortuary and Crematorium Ltd., Robinson and Soldier Roads on Friday from 10:00pm to 6:00pm and at the church on Saturday from 8:30am until service time.