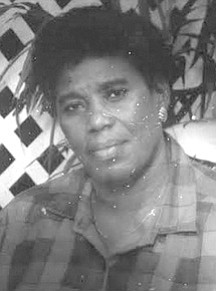 Verdell "unt Della" Butler
unknown - unknown
Verdell "Aunt Della" Butler age 79 years of Crown Haven Abaco, died on Saturday October 25 2014 at The Princess Margaret Hospital.
She is survived by her Husband Rencer "Bookie" Butler; Children: Samuel, Ivan, Alphenus, Jason, and Edvardo Butler, Theresa Russell, Albertha Sturrup, Magnola Francis, Creolia, Leann Russell- Payout, Jennifer Parker, Lavern McQueen and Maude Russell of Crown Haven Abaco; Siblings: Alma Curry of West Palm Beach and Shirlene Russell of Crown Haven Abaco. A host of Grand-children; Great-Grand-children, Nieces, Nephews and other relatives and friends who will be listed at a later date.
Funeral Arrangement is being handled by Evergreen Mortuary located on Collins Ave, Nassau Bahamas & John McKay Blvd, Marsh Harbor Abaco.