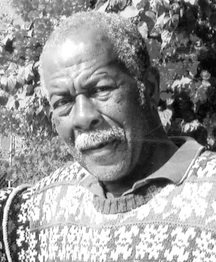 Granville Godfrey Cooper
unknown - unknown
Funeral Service for Mr. Granville Godfrey Cooper, age 72 years, Resident of Fritz lane, Formally Savannah Sound Eleuthera, will be held on Saturday 27th September, 2014, at 10:30 am, at Grants Town Wesley Methodist Church, Chapel Street, officiating Rev. Christopher H. Neely, President Bahamas Conference of Methodist Church, & Rev. L. Carla R. Culmer, Pastor Grants Town Wesley Methodist Church, Organist Mr. Keith Major, Interment Southern Cemetery, Cowpen & Spikenard Road.
Left to Cherish his memories are, daughters, Bernadette, Shena & Enid Yvette Ortiz of Chicago, grandchildren, David, Brian & Giovanni Ortiz, son-in-law, David Ortiz of Chicago, sisters, Joyce Culmer of Savannah Sound Eleuthera, Emily Ferguson, Ethel Cooper, Edith Olga Wilchcombe, & Pauline Cooper of Nassau, brothers, James & Frank Cooper of Nassau, & Trevor Cooper of Savannah Sound Eleuthera, sisters-in-law, Maxine & Paula Cooper, & Shirley Johnson, brothers-in-law, Gerald Wilchcombe, nephews & nieces, Carl, Carlos, Michael, Claudius & Clarence, & Rev. L. Carla R. Culmer, Carlis Johnson, Carletta Turnquest, Eula Carlene Thompson, Alexander, Warren & Emily Ferguson, Paige Morrison, Nickell, Nicole, Deandre, Kendra, Chaquelle, Shont'e Anderson 111, & James Cooper, Althia Simms, Sophia, Kevin, Gerard, & Tamal Cooper, Aimee New Church, Kadesh Wilchcombe, Jamaal Leadon, Renardo & Renaldo Pinder, Kieran Sweeting, Trevor Jr., of Miami Florida, Shawn, Taneisha & Angelo Cooper, Carl Jr., Giovanni & Michael Culmer, Vonria, Carleeza & Von Johnson, Adam & Tobias Turnquest, Carlos Jr., Carleah, Carlito & Alexandria Culmer, Aiden, Jade, & Tyanna Thompson, Alexander Jr., Rochelle Davis, Jason & Jamal Cooper, Tiara & Tiko Leadon, Nia, Brianna & Renaldo Jr., Pinder, Kienna Sweeting, other relatives & friends including, Mr. & Mrs. William Hilton & Family, Elaine, Sonia & Desiree Thompson, The Children of the late Joseph McKenzie, Elizabeth & Gladstone, Petty, Merlene & Leonard Nairn, Vernal & Margaret Gibson, Reynold & Dorothy Culmer, Muriel Johnson, Rev. Anderson & Pasty Sands, Samuel Johnson, Levi & Leola Johnson, Maud Davis, Chris & Ethel Malakius, Miss Judy Rolle & Family, Miss Ida Claridge & Family, Mrs. Susan Foote & Family, Mrs. Joanna & Samuel Williams & Family, Mrs. Mackey & Family, Mrs. Sophia Bastian & Family, Mrs. Natasha Todd & Family, Mr. Jeffery Rahming & Family Known as Shaggy, Mrs. Rose Scott & Family, Riverside Funeral Chapel Staff, Demeritte Funeral Home, Newbold Brothers Chapel, Kurtis Memorial Mortuary & Bethel Brothers Morticians & The Entire Funeral Home Association, Rev. L. Carla R. Culmer & The Grants Town Wesley Methodist Church Family, Rev. Dr. Eric Lightbourne & St. Margaret Road Native Baptist Church Family, Cooper's Gibson's, Culmer's, Petty's, Nairn's, Johnson's & The Community of Fritz Lane & Savannah Sound, Hatchet Bay, Governor's Harbour Eleuthera.
Relatives & friends may pay there last respects at Riverside Funeral Chapel, Market Street & Bimini Avenue on Friday from 10 am until 5 pm & at the church on Saturday from 9:30 am until service time.