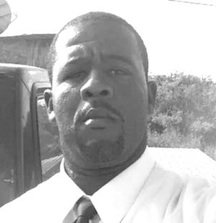 Jarvago "Vardo" Miller
unknown - unknown
Funeral Service for Jarvago "Vardo" Miller, age 34 years, of McKann's, Long Island, formerly of Freeport, Grand Bahama, will be held at South Beach Union Baptist Church, Summer Haven Estate, on Saturday September 27th, 2014 at 11:00 a.m. Officiating will be Rev. Milton McKenzie. Interment will follow in Southern Cemetery, Cowpen and Spikenard Roads.
Left to cherish his memories are: his father: Stafford Jackie Miller; his mother: Victoria Thompson-Jones; stepmother: Lisa Miller; brothers: Clifton Bullard, Shayne Miller, Copeland Brown and Pedro (Lynn) Marcello; sisters: Raquel (Anthony) Mackey, Albertha Miller, Marian Sands, Lillian and Janeka Thompson, Merline and Royann Brown, Clarisse Pinder and Kelfene (Renato) Ramsey; one brother-in-law: Prince Edward Pinder; uncles: Benjamin (Beulah) Miller, Reo and Joseph Miller and Joseph Thompson; aunts: Emily (Wilmore) Bullard, Dorothy Miller, Priscilla Thompson and Ella Sertil; nephews: Jordan and Darius Mackey; Sharquille and Miah Miller, Renato Jr. Gregory Darling, Isaiah Pinder, Rodney Hepburn and Anton Miller; nieces: Anraiel Mackey; Denisha and Leshia Miller; Kerdeisha, Tatianna, Renata Ramsey, Pedricca and Charlene Julmiste, Trinity Lainy, and Chenique Thompson; one grandnephew: Andrean Russell; his McKann's family: Judy Pinder and family, Mary Adderley and family, Dorothy Miller and family, Drexel Sr. and Merline Dean and family, Kathleen Brice and family, Frederick and Tryphene Knowles and family, Kingsley Edgecombe and family, Wellington and Sinclair Edgecombe, Delores Edgecombe, Rudolph Knowles, John Fox, Lenroy Gray, Luther and Rose Edgecombe, Reuben Miller, Delores Miller, Merriel Adderley and family, Pastor Scoffield and Rosie Miller and family; special friends: Garvin Miller, Nasio Knowles, Darron Dean, Duncan Love, Ricky Miller, Kevin Pratt, Leslie Cartwright Sr., Willis Harding, Philip Gray, Jamal Gray, William and Betty Miller, Neil and Nicarra Miller, Stafford Miller, Joann Fox, Kevin Fox, Rodney Lloyd and the Christmas crew; other relatives and friends including: Inspector Almeta Brown, Joydawn Roberts, Inspector Brian Miller, Ikey Miller, Jeffrey Knowles, Vanessa Miller-Seymour, Oscar Miller, Sonia Storr, Ricardo (Avalon) Miller, Carl Knowles, Judy Adderley, Antanasio Knowles, Darren and Juney Dean, Shirley Miller, David and Donald Miller; Lenney Gray, Mary Edgecombe and family, Delores Miller and family, Theresa Miller and family, Facebook family and friends, the communities of McKann's and Salt Pond, Long Island and the entire Long Island community.
Friends may pay their last respects at Butlers' Funeral Homes and Crematorium, Ernest and York Streets on Friday September 26th, 2014 from 1:00 p.m. to 4:30 p.m. and at the church on Saturday September 27th, 2014 from 10:00 a.m. until service time.