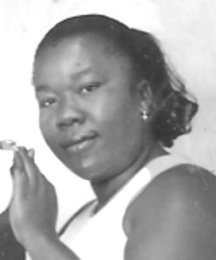 Salimise Alouidor
unknown - unknown
FUNERAL SERVICE FOR

The late
Salimise Alouidor
Age: 42 yrs.
Of Cowpen Road

Will be held: Saturday, 27th September, 2014 
at Ebenezer Baptist Church
Time: 1:00 p.m.
Officiating will be Pastor Jean Gelin
Assisted By: Other Ministers
Interment will follow in Southern Cemetery, Cowpen & Spikenard Road
Cherished memories will forever linger in the hearts of her
Loving Mother: Calicia Alouidor
Father: Jean Alouidor
Son:Ines David Alouidor
Daughter: Alexandra, Orlimise Hyacinthe Alouidor
Brothers: Preslet, Luckson Johny, Jameson Alouidor.
Sisters: Melodie, Kerlange, Gladis, Marjorie, Carline, Djouna Alouidor
Uncles: Albert, Alceron, Mezadieu
Aunt: Lamercie, Tifouna, Therese
Nieces and Nephew: Partricia Norlande Norline, Aninaica Anderson, Chantale, Berline, Rosekerline Juyslervencia, Mickey
Many other family and friends including the entire Cowpen Road Family (Bush life)
Friends may pay their last respects at Rock of Ages Funeral Chapel, Wulff Road and Pinedale on Friday, 26th September, 2014 from 10:00a.m. to 6:00 p.m. and at the Church on Saturday from 12:00noon until service time.