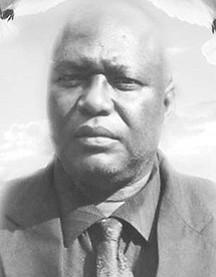 Derick Maurice Pratt
unknown - unknown
Funeral service for
Derick Maurice Pratt, 52
a resident of Pride Estates & formerly of Finlayson Street, will be held at Evangelic Assembly, Blue Hill Road & Fleming Street, on Saturday, 28th February, 2015 at 2:30 p.m. Officiating will be Rev. Patrick V. Smith.  Interment follows in Woodlawn Gardens, Soldier Road.
Leftto cherish his memories are his children: Mrs. Tesheria Bellot, Tamara, Selena, Irene, Meko, Derick Jr., Travaughn, Travaz & Travayne; 1 grandchild; son-in-law: Sonny Bellot; daughter-in-law: Antonia Pearce; sisters: Sherry Ann Charlton, Lavan, Deborah, Cleotha & Tashia Pratt & Gwen Smith; brothers: Eric, Eugene, Ronald (N.C.), Christopher, Ronald, Hensil Pratt & Leon Smith; nieces: Shaniqua, Alexandria, Lavern, Shanette, Tanya, Maria, Vanessa, Sheander, W/M Toi Laroda, Ashley, Precious, Rhonda, Parissa, Katen, Chrishana, Lynkquell, Decoda, Remilda & Nykell; nephews: Kenneth, McGyver, Marcus, Kenton, Sean, Troy Jr., Demetrius, Dwayne, Dwight, Christian, Ronald Jr., Christopher Jr. & Timeko; grandnieces: Scotia, Welneisha, Shanti, Kenyatta, Kenya, Shauna, Crystal, Gerriniqua & Halo; grand nephews: Patrick Jr., Dwight, Mark, Keon, Gerald Jr., Kamrein, Shaquan, Ashton, Omar Jr., Stephon & Ricardo Jr.; aunts: Shirley Daniels, Deaconess Delphine Duncombe & Deaconess Amanda Colebrook; uncle: Dr. Elijah Daniels; sisters-in-law: Nicole, Kaywanna & Geraldine Pratt; brothers-in-law: Ulric Charlton & Bertrum Canter; other relatives & friends: Leandra & Lynden Stuart, Lindia, Flow, Leantae Smith, Patrice & Precious Butterfield, Leon Smith Jr., Leonardo & Laron Smith, Lynden Stuart Jr., Leonardo King Jr., Yvette Robinson, Donna McCoy, Althemeze Watson, Kaynell Knowles, Gail Pearce, Yvonne Clarke, Melinda Seymour, Brenda Humes, Veronica & Bertrum Bowleg, Sheryl McKinney, D'allo Johnson, Charlene Brown, Amos Saunders, Sylvia Wallace, Anthony McKinney, Link Bowleg, Suzanne Pennerman, Thomas Holbert, Solomon  Hall, Carlton Gaitor, Mervin Sweeting, Vandike Rodgers, Patrick Bain, Leo King, Meko, Linda Joseph, Mildred Moss, Mr. King, Cleopatra Woodside, Cathline Baine, Sharmine Ward, Stephen & Portia Brown, Myles Laroda, Dencil Marsh, John Marsh, Ceilia Ferguson, Kimberly Brennen, Shantio Clarke, Ella Cooper, Mizpah Bannister, Zilpha Burrows, Hestine Adderley, Mavis Pierre, Amos Burrows Jr., Alfred Bain, Andrea Brown (#1), Kevin Major, Tissia Norris, Calm Lightburn, Sharon Farrington, Wellington Armbrister, Frederick Colebrooke, William Joseph, Ursula Sealy, Van Gibson, Dre Christie, Corey Bain, J.B.R., N.P. Concrete, Gold Circle & Bay Street Garage sraff, Transfiguration Baptist Church, the Bain Town community, Rev. Patricia Rolle, the Cowpen Road crew.
If we the family have forgotten anyone, please forgive us.
Friends may pay their last respects at Demeritte's Funeral Home, Market Street from 10-6:00 p.m. on Friday & on Saturday at the church from until service time.