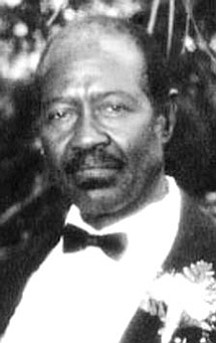 Elisha Forbes
unknown - unknown
Home going service for the Late Elisha Forbes age 84, a resident of #50 Camperdown and formerly of the communities of Mars Bay and Deep Creek South Andros will be held on Saturday February 28th, 2015 at 11:00am at St. Francis Catholic Church, Boyd Road. Officiating will be MSGN Alfred Culmer and interment will follow in the Lakeview Memorial Gardens, JFK Drive.
Loving Wife: Ena Alvira Forbes of 56 Plus Years Daughters: Lillian Forbes Bain, Elizabeth Forbes Moxey, Debbie Forbes Richardson, Deborah Forbes Bean, Lisa Forbes, Denise Forbes Green, Thea Forbes Smith, & Ursula Forbes., Karen Green Bodie, Sharon Rolle, Kathrine Duncombe,, Shemona Johnson Sons: Elisha Jr, Philip, Raymond, & Mark Forbes, Tyrone Burrows, William Adderley Daughters-In-Law: Dez, Ava & Dale Forbes Sons-In-Law: Everett Bain, Henry Moxey, Gary Richardson, Trevor Bean, Anthony Green, & Freddie Smith
Sister: Pearlean Lawrence Sisters-In-Law: Miriam Forbes, Viola Inez Carey & Effie Thompson Grand Children: Sherman, Armando, Themo, Anitra, Maurice, Adrian, Tavares, Philisha, Geanetta, Phalano, John & Julia Forbes, Fredlyn Dames, Wayde Poitier, Keisha Strachan, Alexia Bethel, Sandy Campbell, Aaron & Joel Bain, Jodee & Knoll Brown, Latrelle Bain, Avia & Rashard Richardson, O'Ryan Clarke, Thalisa Bethel, Deanne, Barbara & Ashley Green, Sydney Smith, Gina Bartlett, Sasha, Jasmine, Taja, Tatiyanna & Henry Jr., Moxey and Meguile Neely Great Grand Children: Larese, Jalon & Fredricka Dames, Keva, Armando Jr., & Jason Forbes, Wayde Jr., Shannon & Jayden Poitier, Shawn, Jermaine & Javon Forbes, Ariel Moxey, Stephan Pratt, Antoine Mller, Judah & Jada Gibson, Jewel Forbes, Edward Ferguson Jr., Kehanna Smith, Rashard Richardson Jr. Nieces: Donna Lawerance, Harriet Archer, Mizpha, Rendy, Sandra Young, Joycelyn Smith, Leotha Rahming, & Leanna Laing, Ethel Munroe, Maureen Nixon, Miyacah & Joan Knowles, Lillian Smith McPhee, Dell Smith, Christine & Brendalee Thompson Nephews: Edwin, Sterling Thompson & Wendell Lawrence, Patrick, Berkeley & Hansel Obrien, Sheaddy, Freddy, & Anthony Nixon, Gregory Laing, Samuel, Freddy, Raymond, & Michael Tucker, Glen Smith, Anthony, Allan, & Harry Thompson Grand Nieces & Nephews & In Laws: Minlee Forbes, Joan Duncombe, Henry Bain Sr.,Willis Jones, Strafford Armbrister & Family, Keith Taylor, Ione Sweeting, Dorothy Sweeting, Nadene Sweeting, Joe Rahming, Joy Tucker, Kendal Rahming, Smith, Alvin Collie, Ezekiel Duncombe, Olga & Amos Flowers, Raven Richardson,Walt, Leabner, Chandalear, Forbes & Kaywana Forbes Rahming, Alfred, Shantell & Caleb Watkins, Joseph Forbes McPhee & Family, Tony Rodgers, Jay Neal, Joan Rahming, Jeremiah Jr, Wayne & Vincent, Renae Bennett, Edward Jr., Rhonda, Omar, Christian, Awar Duncombe, Alicia & Kenton Ferguson, Alvin, Alvadale & Alareece Collie, Vanessa Farrington, Bernard Pierre, Kenneth Higgs, Michael Gibson, Arrow Grant, Harold Gordon, Ricardo Davis Sr, Dwright Grant, Don Hall, Taffica Neely, Ricardo Davis Jr, Kenya, Kendra, Kenrua, Kennetha, Keneice, Kenneth Jr., & Kenrick Higgs, Michaella & Daniel Gibson, Ira Jr., Ebony, & Shaquille Grant, Karon & Takia Gordon, Drayson, Gregory, Marcgandi, Ashley, Chante & Alexander Jr., Keith Jr., Kavaugn, Venderia Neely, Reinabelle, John & Livingston Johnson, Ella Carey Collie, Val, Dellarese & Vanda Carey, Ruth Rodgers, Edmond Rolle, Tracey Simmons, Alecia Bain Rahming, Halton, Henry Jr., & Anathol Bain, Wayne, Jeremiah, Urich, Tamal, Jareth & Hugh Jones, Ethel Howard, Haywood Jr.,, Alexander & Clifford Wright, Ann Balfour, Jackie, Benjamin, Gabriel, Cherry, Lisa, & Owen Adderley, Greta Sweeting, Charles & Lana Johnson, Donna Jones, Ethel Davis, Yvone, Theola & Larry Griffith, Lanika Robinson, Mario & Marvin Henfield, Esther, Joseph, Cleomi, Carl, Donald, & Ronald Nottage, Joycelyn Dean, Patricia Smith, Idamae Bromwell, Portia Dean, Joseph Davis, Patrice, Portia & Dwayne Munroe, Monique & Tameka Pratt, Tashika Smith, Griffin, Stafford Nixon, Tameko Johnson, Drevon McPhee, Lekendra, Kenisha, Kendal Jr., and Kenwood Rahming, Roy, Valderine, Anthony Jr., Sweeting, Leonard, Wesley, Clifford, DAngelo, Darron, D'andra, Destron, Edison, Laveratte, Lamond, Levar, Agassi,William, Tiffilo, Kareem, Gonzalo, Byron, Tiffany, Tiffell, Vharmine, Kenroy, Glenroy, Miranda,Cathrine, Johm, James and David, Lucene Forbes, Margaret Duncombe, Maureen Sweeting, Nurse Val Rahming & Family, Elkannah Andrews & Family. Other Relatives & Friends: Nile & Nurse Regina Gibson & Family, Jeff Brown & Family, Nurse Lyndy Rahming & Family, Charles Bethel & Family, Beverly Bethel & Family, Enid (Sue) Bean & Family, Glenward & Michelle Bain & Family, Philip White & Family, Arlene Nicolls & Family, Trevor (Polar), Shelia & Family, Geneva Forbes & Family, Virginia Burrows & Family, Anthony & Sharon Andrews & Family, Gina & Harris Nixon & Family, Leo & Rodnell Forbes & Family, Willard & Francetta, Tezrina, Zendal, Loxley, & Benjamin Forbes & Family, Pauline Duncombe & Family, Zeith McIntosh & Family, Evodney Bean & Family, Stanford Duncombe & Family, Wilbur & Elsie Smith & Family, Rollie & Linda Smith & Family, Ronald & Charmaine Bean & Family, Wendell & Ettamae Moss & Family, Loxley & Gleanna Bean & Family, Chris & Receese Bean & Family, Allie & Ethel, Clayton, Shy & Ala Bean, Monica Nixon & Family, Ruth Meadows & Family, David Missick, Sandra Smith & Family, Prince Hepburn & Family, Nat Smith & Family, Bertram Taylor & Family, Rodnell Forbes, Lee Meadows & Family, Granville Brown & Family, Wilfred & Dora Andrews & Family, Junior & Virginia McCartney & Family, George & Gloria Brown & Family, Clarence & Anathol Young & Family, Kathleen Shield & Family, Burcel & Edna Rolle & Family, Nathaniel Adams & Family, Eddie & Ena Sands & Family, Eula Nixon & Family, Wilbur & Elsie Smith & Family, Ronald & Charmaine Bean & Family, Loxley & Gleanna Bean & Family, Clayton, Shy & Ala Bean, Monica Nixon & Family, Ruth Meadows & Family Mytis Simms & Family, Karen Young & Family, Alfred & Judy Stuart & Family, Patricia Johnson & Family, Tangie & Patrica Moxey & Family, Camille & Yvonee Campbell & Family, Rodnell Forbes, Sandy Scott & Family, The Entire Mars Bay Family, Deep Creek, Lil Creek, Driggs Hill Communities & The Entire South Andros & Mangrove Cay
Friends may pay their last respects at the Vaughn O. Jones memorial center Mt. Royal Avenue and Talbot Street on Friday from 11:00am to 5:00pm and at the church on Saturday from 9:45am until service time.