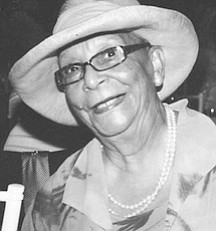 Gwendolyn Veronica Turnquest-Duncanson
unknown - unknown
Memorial Service for Mrs. Gwendolyn Veronica Turnquest-Duncanson age 76 years a resident of #14 Lindsay Road, Mount Pleasant Village, will be held Next Thursday, June 4th 2015 , at 11:00 a.m., at Holy Spirit Anglican Church, Howard Street, Chippingham . Officiating will be Rev'd Fr. Peter A. G. Scott assisted by other ministers of the gospel.
She is survived by her Children: Troy Duncanson Sr. and Gigi Strachan; Grandchildren: Gia Duncanson, Troy Duncanson Jr. & Ariana Strachan; Great Grandchild: Kayden Forbes; Son-in-Law: Andrew Strachan; Daughter-in-Law: Erma Duncanson; Two (2) Sisters: Lois Cleare & Patsy Nichols; Brother: Bernie Turnquest; Nieces: Arlene Collie (Ivan), Denise Hafidth (Fuad), Valeria Henry, Hedda Smith (Philip), Lisa Percentie (Floyd), Ellen Jane Johnson & Tangie Jones; Nephews: Campbell Cleare III (Sharon), Robin Nichols (Patrice), Brian & Mark Turnquest & Eugene Harris; Godchildren: Anthony Thompson, Symone Dillett, Dr. Jon Barlett, Sheena Deveaux, Cheralda Arnett, Inga Thurston & Jerah Gibson
Other Relatives and Friends: Barry & Val MacInnes, Beryl Dillet & family, Patricia Carey & family, Doris Fritzgerald, Cora Culmer & family, Josh & Helen Dean & family, Elva Tynes & family,  The family of the late Constance Lun, The family of the late Bloneva Brathwaite, Stephanie Francise & family, Dud & Rose Powell, Elaine Dawkins, Velma Burrows & family, The family of the late Grace Archer, Veronica Pratt, Marina McCartney & family, Deloris Edwards & family, Jahue Edwards, Esther Armbrister & family, Virgina Capron & family, Lana Wells, The families of the late Curtis, the late Ethel, the late Percy & the late Dillas Turnquest, Rev. Fr. Joseph & Mary Mycklewhyte, Pastor Sam Boodle & The Lutheran Church family, Holy Spirit Church family, Flora Hanna & family, Rev. Fr. James Moultrie & family, Imogen Smith, Don Johnson, Dave Barnett, Sam Ingraham & family, Leaman & Theresa Rolle & family, Charmain Seymour, Eulise Forbes, Clarise Saunders, Reginald & Elizabeth Grant, Bernice Eneas & family, Liz Innis, Barbara Albury & family, The family of the late Inez Cooper, Gwennie Lockhart & family, Cindy Forbes, Pam Russell, Todd & Sheari Beneby, Earl Bethell & family, Louise Simmons, The family of the late Rev. Canon Sammy Sturrup, Aderson & Sherrin Cooper, Dr. Lesley & Beverly Culmer & Culmer family, Charles Stubbs, Kermit & Blanche Campbell & Campbell family, The mount Pleasant Village family & to a host of other relatives & friends too numerous to mention.      
Special Thanks to Imogen Smith, Dr. Tyrone Bartlett & Staff, Gambier Clinic Nursing staff especially Nurse Yvette Gibson, Doctors & Nursing Staff at A & E PMH, Rev. Canon Peter Scott, Pastor Sam Boodle, Velma Burrows, Cora Culmer, Dor Major, Holy Spirit Evangelism/Pastoral Care
In lieu of flowers donations can be sent to Holy Spirit Church's building fund c/o P.O. Box N8753 in memory of Gwendolyn Turnquest-Duncanson.