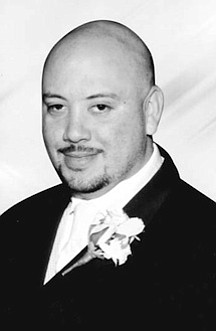 LAWRENCE CHRISTOPHER JONES
unknown - unknown
Memorial Service for the late LAWRENCE CHRISTOPHER JONES age 37 years of East Park Estates will be held on Saturday, May 30th, 2015 at 3:00 p.m. at Grace Community Church, Palmetto Village. Officiating will be Sr. Pastor Lyall Bethel, Pastor Leroy Hanna assisted by Elder Greg Williams, Elder Cyril Peet, Elder Cardinal McCardy and Elder Stuart Kelly.
Precious memories will always linger in the hearts of his Wife: Natasha Jones; Sons: Jaiden & Tristan Jones; Mother: Deborah Adderley; Father: Cleophas Adderley; Father-in-law: Wendell Smith; Sisters: Sophia McCartney & Achaebea Dyer; Sisters-in-law: Latoya Wells, Wendy Sands & Candice Hernandez; Brother: Jermaine Adderley; Brothers in law: Clinton McCartney II, Leon Thompson, Raymond Lloyd, Marco Ingraham, Cedric Dyer, Wendell Smith II, Micah Smith, Craig Wells, Andalino Sands & Antonio Hernandez; Grand Mother-in-law: Vernell Rolle; Aunts: Italia Lunn, Hendrika Moss, Eldika Moss, Teenie Jones, Diane Turnquest, Donna Higgs, Scharlene Pekeski (Canada), Patrice Jones, Agnes Jones & Mary Deal (Abaco); Uncles: Stephen Jones, Nelson Turnquest & Brian Higgs; Nieces: Caylin McCartney & Lauren Pekeski; Nieces-in-law: Ramonica Lloyd, Renae Ingraham, Alexia McKinney, Khaija Russell, Aiyanna Hernendez & Amaris Sands; Nephews: Clinton McCartney III, Matthew Pekeski & Cedric Dyer II; Nephews-in-law: Charles Lloyd, Henry Thompson, Craig Wells, Yalisey Smith & Antonio Hernendez II, Cousins: Travis & Erin Jones, Michael & Latasha Jones Jr., Jenssen Evans, Jeffrey & Sheena Thompson, Geno Higgs, Omal Turquest, Mark Jones, Jamie Higgs, Bianca Jones, Nasya Turnquest, Brandon & Aidan Jones, Alyse & Leah Thompson, Zhyanna Evans, Janiyah Higgs, Geno Higgs Jr., Tameisha, Tamika, Tamia & Tatianna Jones, Anita Moss, Anthony & Richard Moss, Sabrina Lunn, Stephania Hanna, Tanya Smith, Lisa Lunn, Moss Gas Family, The Deal Family and many other cousins, too much to mention; Host of other special friends, including: Dino Mosko, Alex & Astrid Thornley, Avi Russell, Sr. Pastor Lyall Bethel and Family, Peter Maynard & Family, Clinton & Myrtle McCartney and Family, Arnold & Lydia Ferguson, Mr. & Mrs. Gerard Wirth, Elizabeth Knowles, Peter Albury & Family, Desiree & Dina Moree, Tony & Gina Roberts, The Nassau Darts Association Family, The Nassau Glass Family, St. Augustine's College Class of 1996, Grace Community Church Family, St. Francis/Xavier's Cathedral Family, Funshine Academy, East Park Estates Family, Pamela Hart, Anthony & Marguerite Knowles & Family, Byron Brown Sr. & Family and many other too numerous to mention.
Viewing will be held in the Halycon Suite at Restview Memorial Mortuary and Crematorium Ltd., Robinson and Solider Road on Friday from 10:00am to 6:00pm; there will be no viewing at the church on Saturday.