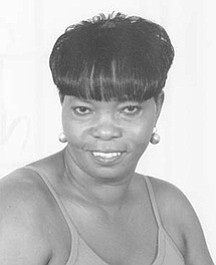 Leona Anna Stubbs
unknown - unknown
Funeral service for
Leona Anna Stubbs, 65
a resident of #102 Jubilee Gardens, & formerly of Dumfries, Cat Island, will be held at All Saints Anglican Church, All Saints Way, South Beach, on Saturday 30th May, 2015 at 10:00 a.m.  Officiating will be Rev. Fr. Addington turnquest & Rev. Fr. Berkley J. Smith, J.P.  Interment follows in Lakeview Memorial Gardens, John F. Kennedy Drive.
Left to cherish fond memories are her husband: Kendal Kermit Brown; four daughters: Kendra (Wesley) Ferguson, Monique and Kim McKenzie and Kendalin (Alehandro Sr.) Brown-Butler; two adopted children: Orson Bell and Vernice Gilbert; twelve grandchildren: Kennise, Wesley Jr., Wesnique, Kenron and Keiano Ferguson, Tiko, Tameko and Taneisha Bethel, Tania and Tanario McKenzie, Alehandro Jr. and Kayden Butler and three  adopted grandsons: Leornardo, DeAngelo and Jhadeem  one adopted granddaughter: Aliyah Butler; four great-grandchildren: Tanario Jr. Tameko, DeAngelik (Lulu) and Taniyah; brother: Cardinal Stubbs; three sisters: Carnetta and Naomi Stubbs and Marilyn Johnson. sister-in-law: Patricia Ann Stubbs nee Jones; nephews: Rudolph, Eddison, Dwight, Gregory, Phillip, Ernest and Greg Stubbs, Stephen Knowles and Christopher and Frederick 111 Johnson; nieces: Kathymae Johnson of Miami Florida & family, Whitlean Miller, Cheryl Robinson, Tamara Reckley and Terry Water & family, Sylvia McKenzie and Dorothy Turnquest, Princess (Henry) Johnson, Terry (Bradley Sr.) Moxey, Jennifer Morley, Jacqueline and Fredericka Johnson and Estelle (Rodney) Major; numerous grand and great-grand nephews and nieces to mention; cousins: Bernice, Lela, Rosie and Cedric Smith and Delrona Higgins; god-children: Melony, Trisha Glinton of Miami Florida, Ali, Latoya and Leslia . Other relatives and friends including: The Rev. Berkely Smith & family, Commissioner Charles King & Family, Rev. Edmund Stubbs & family, Milton Smith & family, Simeon Armbrose & family, Mr & Mrs. Bobby Dames, Mr. & Mrs. Paul King, Tenwanna and Deon Kemp, Dorothy Pinder First Street, Gloria, The Stubbs family, Shirley Armbrose & family, Eddison Riley, Karen Moxey, Patricia Brennen, The Armbrose family, The Dean family, Penny Pratt & family, Patrick & Deidre Role & family, Linda Moxey of Miami Florida & family,  Linda Roach & family, Basil & Princess Sears & family, Karen Williams & family, Darnell Farquharson & family, The Jones family Palm Beach Street, Rhonda Gaitor, Veda King & family, Ellarese and Michelle, Shirley Rose, Eddie Boo, Sherry, Audrey Poitier, Patrick Hepburn, the old crew from Wyndham Nassau Resort & Crystal Palace Casino, Bahamas Experience Limousines & Tours, Ministry of Finance, CTC Consultants Tallahassee Florida, The Market Place Restaurant, Landscaping and Utilities Department Atlantis, Ocean Club Residences & Marina,  Island Gas, the Member of Parliament for Tall Pines Leslie Miller & family, Mr. Warren Rolle & family, Birdie Stubbs & family, Lottiemae Laramore, Tameka, Rita Curtis, Bahamas Vision Centre, Dior Rolle, Shavana, Sherlyn and Craig Sweeting & family, Ingrid McKenzie, The McKenzie family, Stephanie and Kim Bethel & family, the Gaitor's, Bishop Rudolph & Veronica Bowe & family, Phillipa Thompson,The Ward family, Kesa,  Golden Gates family,Theresa Hunter, Shantell McPhee & family, Devon Outten, Rueben Lloyd, Brenda & family Coakley, Chubby & Barbara, LaKeisha Maycock & family, Roston Cox and the entire family of Dumfries Cat Island.  We, the family, apologise if your name was inadvertently left off.
Friends may pay their last respects at Demeritte's Funeral Home, Market Street, from 12-6:00 p.m.on Friday & on Saturday at the church from 9:00 a.m. untiil service time.