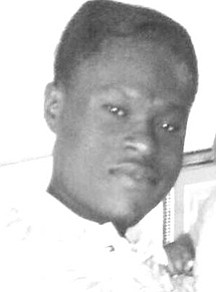 Thiffeon Ronald Johnson
unknown - unknown
Funeral service for
Thiffeon Ronald Johnson, 20
a resident of Thompson Drive, Fox Hill, will be held at Christ Church Cathedral, George Street, on Saturday 30th May, 2015 at 11:00 a.m. Officiating will be Dean Patrick Adderley & Fr. Collin Humes. Interment follows in Woodlawn Gardens, Soldier Road.
Thiffeon is predeceased by his: Father: Dion Johnson Sr. "Coakey"; Grandmother: Ophelia Boyd-Rolle; Grandfather: Solomon Johnson Sr.
Left to cherish his memories are his Mother: Tiffany Rolle-Miller; Step-father: Mario Miller Sr.; Step-mother: Georgina Darville
Grand-father: Henry "Goatman" Rolle Sr.; Grand-mother: Theresa Dawkins; Brothers: Dion Jr. and Thriffeon Johnson, Temario Miller; Aunts: Carla Henderson; Delphine Boyd; Erica Smith; Janiska Major; Katrina & Latoya Rolle; Portia Harrigan; Samantha, Kim, Antoinette, Lilly McDonald & Dorothy Johnson; Bridgette Outten, Karen Russell, Sophia Alcime, Marsha Daxon, Donna Fisher; Detective Sgt. 2347 Freya Emmanuel; Fontella Burrows, Minister Marlene Minus and Patrice Jones; Uncles: Lemuel Boyd Sr.; George Henderson; Henry Rolle Jr.; Henry Rolle II; Kelsey, Marvin, Solomon Jr., Bradbury, Corporal 1811 Stephan, Vado & Darcy Johnson; Alex and Alexis Darbouze; Grand-Aunts: Gladys Boyd-Roberts; Enid Boyd of Miami; Beverley Boyd-Treco; Helen Mitchell-Smith of Miami; Miriam, Freansa & Rosalee Rolle; Vandolyn Dixon; Pastor Laura Johnson-Taylor; Gwendolyn Johnson; Auntie Fenn; Edna Sands; Great Grand-Aunts: Rosemary Archer, Gracie King, Elliah King; Grand-Uncles: Cecil Jr.,Claudius Alexander, Anthony, Van Arnold & Glenroy Boyd; William "Billy" Treco, Simeon Smith; Gregory and Phillip Johnson; Great Grand-Uncle: Hartman Moncur; Godparents: Sherry, Melly, Monalisa Hart, Keisha Wright, Antoinette Butler, Janet, Lynette,  Trevor, Berton; Cousins: Georgentina, Kendra, Lemunique, Able Mechanic Lemuel Boyd Jr., Latoya, Georgio, George Jr., Antio Jr., Ra'Kygha, Temeco Sr.&Jr., Tempest, Toree, Tianave, Tamarlese, Tenia, Tafari, Brook'Lynn, Kyhiesha, Keino Sr. & Jr., Kyree Sr. & Jr. & Latoya, Kylee, Kyhinise, Kyleah, K.J., Rochelle, Addina, Durant, Levant, Levar, Ingrid, Mark, Clint, Taniah, Smokey, Beteddie, Lil Bud, Sherese, Vandreka, Brazario, Nina, Glenda, Bonnie, Marcellus, Angelo, Angelique, Tevin, Corporal 352 Dominic Boyd, Samantha, Tamara, Kenneth, Keon, Jenique, Jeniah, Jordin, Jacari, Marvin Jr., A'Syriah, Kenzel, Lael, Asia, Galene, Shonell, Theo, Vanessa, Abigail, Bridgette, Rochelle, Leroy, Elroy, Sherry, Niki, Davanna, A.J., Melinda, Tarino, Tyrone, Jr., Decoda, Renaldo, Shayne, Franco Jr., Shameka, Vernita, Donnie, Muffy, Sammy, Marlin, The Sweeting Family, Patsy, Ricardo, Jackie, Daphne, Alexis, Latisha, Taneisha, Kelisha, & Anfernee Johnson, Jeavaughn "Yellow" Taylor, Mayah, Grace, Aleah, Calvin, Christopher & Peter Outten, Monique & Vandolyn Silver; Special Friend: Chrisonia Williams "Stugee"; Close Friends: Giovanni Rolle, Marvin Jr. "MJ", Tremeko, Devenia Fisher, Tenario Euwing, Apples, Debo, Meekey, AJ, Benit, Whoops, Wendell, Dancer, Baby, Muddy, Renzy, Kia, Fresh, Papa, Niecey, Vinya, Punkin, Mama, Vonya, Lil Gio, John, Jenny, Becky, Fruity, BJ, Lil Mitch, Teano, Hotz, Rez, Rusty, Soca, Lil Shawn, Headz, Dobey, Chubby, Tally, Puffy, Tiki, Shortz, Delly, Dukey, Jason, Mon, Stephon, George, Jeffrey, Yellow, Vano, KJ, Chuckie, Kif, Tu-Tu, Crime, Shelly, CJ, Buju, Ronnie, Ace, Shoney, Mavy, Cece; Other Family & Friends: Janice Gray & Family, Sharon Johnson & Family, Arthurann Culmer, The Rt. Rev. Laish Boyd & Family, Dean Patrick Adderley & Family, Father Collin Humes & Family, The Christ Church Cathedral Family, Pastor Cunningham, Barette Smith, Tenavia Fisher & Family, Rakif Gardiner, Renae Brown & Family, The Carter Family, The Gibson Family, Creola McKenzie & Family, Paul Knowles, Patrice Vilvert, Inez Stuart & Nettie & Family, Terry Delancy & Family, Yasmine Lockhart & Family, The Archer Family, The Gray Family, Tiffany Lightbourne & Family, The Thompson Lane & East St. Family, Amanda & Andrea, Gina, Anastacia Davis, Monique Burrows & Family, Yasmine Lockhart & Family, Olivia Newton, Rose Forbes & Family, Michelle Maycock & Family, Alice Duncombe & Family, Shelly Lockhart & Family, Joan & Robert Henderson, Owenta Pennerman, Ian Cargill, Bridgette Miller, The Seymours, The Kings, The Moncurs, The Boyds, & The Josey Families, The Thompson Lane Crew, The Elizabeth Estates Crew, The Critical Care Unit & Trauma team at PMH and numerous others too many to mention.
Friends may pay their last respects at Demeritte's Funeral Home, Market Street, from 10-6:00 p.m. on  Friday.  There will be no viewing at the church.