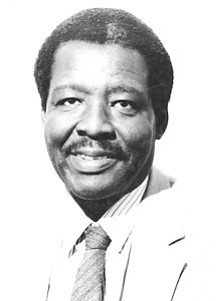 Benjamin William Laing
unknown - unknown
Funeral Service for Benjamin William Laing, age 81 years, of Orchard Terrace, formerly of High Rock, Grand Bahama, will be held on Saturday November 28, 2015, at 10:00 a.m., at Zion Baptist Church, East and Shirley Streets. Officiating will be Rev. Anthony A. Sampson. Interment will follow in Lakeview Memorial Gardens, John F. Kennedy Drive.
Left to cherish his memories are: his wife: Victoria Laing, five children: Barbara Laing, Dwight Laing, Sonia Laing-Peleithi, John Laing and Lahoma Laing; grand-daughter; Shineeka Laing; son-in-law: William Peleithi; adopted children; Albertha Cooper, Kenneth Cooper, John Hepburn Jr., and Velma Mackay; sisters-in-law: Elsada Cooper and Monica Charlton; Thirty-nine nieces and their families: Deloris Moncur; Maria Brennen, Rosemary Pinder, Beverley Barnett, Willamae Bowe; Nicole Laing-Knowles, Norma Laing Newbold, Olive Williams Laing; Sherry Lewis, Denice Laing; Tenneille Laing, WPC 1880 Philencia Dames, Nurse Jennifer Laing Morris, Leading Woman Lisa Forbes, Monique Knowles, Delaura Laing Mackey, Sandra Laing, Genevieve, Able Woman Marine Jacqueline Laing: WR/Sgt. #258 Daisy Saunders, Dec. Alice Barnett and Sylvia Cooper; Roslyn Hanna, Joselee Hepburn, Doretha Hepburn; Nicola Cooper; Annie Mather, Mavis Bullard, Antoinette Williams, Patricia Russell, Nicole Wallace, Bettina Mather; Debra, Tia, Queenie, Nora, Helena and Monique Cooper; Twenty-five nephews and their families: Kennuth, Alvin, Ricky Ricardo, Anthony, Anthony Benjamin, Keith, and Lamont Laing, Patrick, Bradley, Herbert, George and Terrence Laing, Gary, Godfrey, Rodney and Rev. Ivan Barnett, Dec. Leon Sr., Osbourne Jr., Jenson Sr. and RPC#664 Anthony Cooper Sr., Robert Mather, Rodney Mather, Elvis Mather, Leroy Moncur and Terrence Morrison; other family and friends including: Rudolph Laing, Franklyn, Terry, Durrell, Elvis and Carla Thomas, Sandra Clarke, Kathy Laing, Dellerese Laing, Patrick and Petronah Moncur, William Cooper and family, Anna Russell and family, Walter Laing and family, Fairdoll Laing-Cooper and family, Loretta Laing and family, Mary Laing and family, Ivan Laing and family, Jolly Russell and family, Amos Russell and family, Freemava Russell and family, Solly Russell and family, Collins Hield and family, Fairdoll Lewis and family, Blanche Mather and family, Reeka Hield and family, Meldore Lewis and family, The Water's Cay family, Pelican Point family, McLean's Town family, High Rock family, Freetown family, Moore's Island family, The Russell, Hield, Lewis and Laing families, Randall Laing and family, Marjorie King, Verlyn Scavella, Ismae Seymour and family, Barbara Hall and family, Veronica Smith and family, Palace Robertson and family, Karen Sampson and family, C.J. Rolle and family, Rawle Deane and family, Charles Clarke and family, The Yellow Strawberry Staff, Karen and Tracy Kemp and families and Staff of Lyford International Bank and Trust Ltd.
Friends may pay their last respects at Butlers' Funeral Homes and Crematorium, Ernest and York Streets on Friday November 27, 2015 from 11:00 a.m. until 4:30 p.m. and at the church on Saturday November 28, 2015 from 9:00 a.m. until service time.