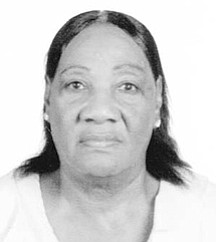 CHRISTINE DELORES GRANT-FERGUSON
unknown - unknown

CHRISTINE DELORES GRANT-FERGUSON age 76 years of Bimini Avenue died at Princess Margaret Hospital on Friday, November 20th, 2015.
She is survived by her PARENTS: Mable & Patrick Grant; SON: George Ferguson; DAUGHTERS: Nina, Mary, Barbara, Cindy & Kayla; BROTHERS: Nicholas, Patrick & Symonette Grant and other relatives and friends.
Arrangements for the funeral service are being finalized and details will be announced at a future date.