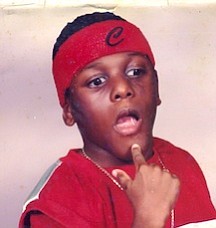 Johvanno Ryan Pierre
unknown - unknown
Funeral Service for Johvanno Ryan Pierre age 18 years, Resident of Windsor Place, will be held on Saturday, November 28th 2015 at 9:00 am at The New Mt. Zion Missionary Baptist Church, Baillou Hill Road, South, and officiating Bishop Earl R. Fraser, Senior Pastor, Palms of Victory Kingdom Ministry, assisted by Elder Jacqueline C. Fraser, Minister John Forbes, Minister Chryslee Rolle, Keyboardist, Mr. James Grant, Interment Lakeview Memorial Gardens, John F. Kennedy Drive.
His memory will forever live in the hearts of his parents, Deacons Johnny & Flora Pierre, grandmothers, Naomi Moss & Anna Douglas, brothers, Jovahn Moss & Samuel Pierre, sisters, Oniqueca Pierre & Shavaughn Boddie, sister-in-law, Lashara Moss, brother-in-law, Leon Boddie, aunts, Daisy Albury, Natasha Brown, Marylou Milfort (FL), Paulette Guerrier (FL), Janet Mondesuier (FL), Ludia Youthe, Michelle Moss & Dominique Brown, uncles, David, Lennix, Ricardo Moss, Kevin Brown, Gary Youthe, Jean Milfort (FL), Dwight Coleby, Fred Albury, Kenny Guerrier Sr., (FL) & Gilson Mondesuier (FL), niece, Samiyah Cox, nephews, Dale Davis III, Trevon Cox & Izaiah Moss, cousins, Shakera & Colin Johnson, Hollestine, Pedro Sr., Pedro Jr., Brooklyn, Donothan, Lennix Jr., Lejuan, Philicia Moss, Dwikita, Kadeem, Dwight Jr., Coleby, Pheonix, Ernae Miller, Adiza Albury, Nathan Taylor, Nehemiah Huggins, Megan, Madisyn Brown, Vanessa, Jessica Oscar, Chrissy Mondesuier, Marvin Milfort, Betsy, Irvin Joseph, Cassandra, Kenny, Tony Guerrier, Samuel Youthe, Derricka & Daphne, numerous relatives & friends including, Edith "Joy" Coleby & family, Lennor Scott & family, Pastor Leonard Johnson & family, Ruthann Rolle & family, Karen Burrows & family, Susan Darling & family, Shavante Forbes & family, Melonie Multimor & family, Peter Pierre & family, Patricia Eulin & family, Gregory Thompson & family, Bethsheba Paul & family, Angela Rolle & family, Irvin Anderson & Dianne Stuart, Tammy Tucker & family, Bishop Earl Fraser & family, Palms of Victory Kingdom Ministry Church Family, Prince George Wharf Taxi Stand, Mr & Mrs William Sands & family, Trevor Johnson & family, Vernon Huyler & family, Blanche Minnis & family, Estella Darling & family, Neil Huggins & family, Solon & family & Solivere & family, Johnson Family.
Relatives & friends may pay there last respects at Riverside Funeral Chapel Market Street & Bimini Avenue on Friday from 10 am until 5 pm & at the church on Saturday from 7:30 am until service time.