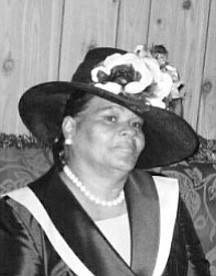 Brenda Salita Major
unknown - unknown
Funeral Service for Catechist Brenda Salita Major age 64, of Mortimer's, Long Island who died on April 21, 2106 will be held on Saturday, April 30th 2016 at 10:00 a.m. at Our Lady of Mount Carmel Catholic Church, Hamilton's, Long Island. Officiating will be Fr. Oswald Ferguson and Deacon Patrick Darville, assisted by Catechist Leonard Cartwright. Interment will follow Immaculate Conception Catholic Church Cemetery,Mortimer's, Long Island.
Left to cherish her memories are Mother: Lucy Watson; Children & Spouse: Deidre Major, Darilyn (Geoffrey) Deleveaux, Olivia (Leviticus) Cartwright, Curtis (Hope) Major, Lisa (Frankyln) Ferguson, Evadna (Fabian) Cartwright, Keisha (Cloyd Sr.) Leary, Justin (Victoria) Major; Grandchildren: Falechian, Alia, T'Shantia, Selena and Shania Cartwright, Katelyn Ferguson, Antoinelle Higgs, Cloyd Jr. and Lebron Leary, Antonio, Cayden, Curtis Jr., Demetrius, Heaven, Jusriel, Kenya, Khaliel, and Omarion Major, Edeisha Martin, and Alicia (Robert II) Mckinney; Great Grandchild: Robert McKinney III; Brothers & Spouses: Felix (Patsy), Johnathan (Yvonne), Luther (Stephanie) and Vincent Cartwright, Basil (Idamae), Bruce (Carol) and Falcon (Norma) Watson; Sisters & Spouses: (Charles) Zerlene Deleveaux, Gladys Munroe and Felicity Walker; Aunt: Celestine Cartwright; Brothers-in-Law & Spouses: Andrew (Bonnie), Herbert, Herman (Anatol), Joseph (Betty), Sandle (Spindy), Vencil (Cyprianna), and Wandle (Freda) Major; Sisters-in-Law: Linda Dames, Deloris Mortimer, Erma and Margaret Major, Marina Wallace, and Edith Williams;  Nieces & Nephews: Wayne, Ernest, Julian, Brenda, Sandra, Perry and Terry Mortimer, Michael, Devaughn, Dulcie Armbrister, Dauna, Lewis, Annette Cash, Veronica Alday, Bernadine Harding, Charine, Octavius, Vencil Jr., Venzano, Margaret, Anthony, Joseph Jr., Sean, Janelle, Andrea, Benjamin, Kendira, Keandra, Lithera, Travis, Lynette, Brandon, Kerrington, Vandria, Wandria, Tye, Melinda, Douglas, Dwanika, Trevon, Janet, Lavern, Keva, Lindy, Jason, Lavans, Loukeisha, Loukeria, Stephan, Chavala, Chester, Troyann, Larry, Stacy, Kelsey, Malissa, Nadean, Julio, Inez, Petra, Melanie, Vashti, Presley, Lisa, Leeward, Jason, Novelette, Bruce Sr., Ashley, Sakeesha, Misty, Kayleisha, Charissa, and Basil; Cousins: Eugene, Paul, Edsel, Wesley, Dolin, Nadean, Leona and Sergeant Pauline Cartwright, Marilyn Lowe, Norma Swain, Judy, Vincent, Debbie, Terry Meadows, Ruby Munroe, Ann, Faye, Violet, Joseph, Marie, Sarah, and Elva Walkine, Alice Mortimer, Claygon, William and Yvonne Watson;  A Host of Other Relatives & Friends Including:  Rudolph (Naomi), and Kevin (Angela) Pratt, John (Bernie) Cartwright, Sheryl and Bridgette Newman, Sybil Darville, Cheryl Turnquest, Brenda Hart, Veronica Cartwright, Carlton Cartwright and Family, Holland Dean and Family, Thomas (Lorene) Watson, David (Vendolyn) Dean, Mcfield Mortimer and Family, Andrew Cartwight and Family, Big Charles Johnson, Leslie and Suzan Cartwright, Ivan and Sharon Cartwright, Craig and Sheriel Cartwright, Cynthia Turnquest and Family, Donald Mortimer, Reginald (Annie) Minnis and Family, Alma Watson and Family, Maria Darville, Barbara Wells, Gerome (Carmeleta) Treco and Family, Nelson Bassett, Stephen D. Maycock, Edward Bain, Lynn Marcello and Family, Lawrence Cartwright, Valence and Geleta Turnquest and Family, Angela Sawyer, Rosee Wilson, Angela Sawyer, Henry (Georgie)  Darville and Family, Archbishop Patrick Pinder, Fathers Kendrick Forbes and Patrick Fanning, Deacon Patrick (Gloria) Darville and Family, Louie and Enith Carrol, Martha Turnquest and Family, Paul (Ruth) Cartwright and Family, Ricardo Fox, Honorable Loretta Butler-Turner (Member of Parliament for Long Island), and the entire community of South End Long Island, the Roman Catholic Parish, and all members of Mortimer's Burial Society. Other relatives and friends too numerous to mention.
Viewing will be held on Thursday (Today) at Vaughn O. Jones Memorial Center, Mt. Royal Ave. & Talbot St. from 12 noon – 5:00 p.m. and on Friday at Holy Name Burial Society in Mortimer's, Long Island from 1:00 p.m. until 10:00 and on Saturday at the Church in Hamilton's from 9:00 a.m. until service time.
Arrangements by Vaughn O. Jones Memorial Center, Mt. Royal Ave. & Talbot St., Nassau, Bahamas.