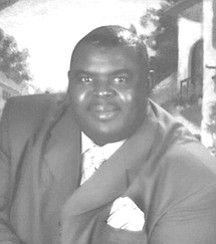 DAVID "SARGE" ALEXANDER McFALL
unknown - unknown
Full Military Funeral Service for the late RETIRED SGT. 717 DAVID ALEXANDER "SARGE" McFALL age 54 years of #44 Bacardi Road will be held on Saturday, April 30th, 2016 at 10:00 am at Voice of Deliverance Disciple Center, Deliverance Way. Officiating will be Chief Apostle Rev. Dr. Leon Wallace assisted by Bishop Elect Carl Curry and Pastor Edlin Scott. Interment will follow in Woodlawn Gardens, Soldier Road.
DAVID was Predeceased by his SISTER: Mary McFall-Sands and NIECE: Deserea Walkine.
Everlasting memories will forever remain in the hearts of his WIFE: Denice Patricia McFall; DAUGHTER: Ebony Louise McFall; SON: David Alexander McFall Jr.; STEP DAUGHTER: Sheniqua Pratt (Taran "Bappy") Davis; STEP SON: Ezekiel Pratt Jr.; GRAND DAUGHTERS: Edessa Alexis Brown & Shanea Alexandria McFall; STEP GRAND CHILDREN: Teran Davis, Teron Davis and Cassidy Pratt; BROTHERS: Chief Petty Officer Randy McFall & Vernal McFall; SISTERS: Cynthia Clarke, Marilyn, Andrea and Louise McFall; MOTHER-IN-LAW: Janette Lloyd; SPIRITUAL FATHER: Apostle Leon Wallace; SPIRITUAL MOTHERS: Pastor Celestine Eneas & Pastor Marva Thompson; SISTERS-IN-LAW: Janice McFall, Janet McFall, Carla Lloyd, Janet Shanna Smith, Terez Eneas, Velma (Michael) Johnson, Christashann (Chris) Adderley, Grace (Alvin) Russell, Monique (Ray) Cartwright and Helena Wallace; BROTHERS-IN-LAW: Cleveland Clarke, Stanley Lloyd, Franklin Lloyd, Pastor Edlin (Roberta) Scott and Clem (Sheniqua) Eneas; NIECES & NEPHEWS: Raquel Etienne, James, Ricardo & Demeko Sands, Cleanne McPhee, Cara Deveaux, Cleveland & Calvin Clarke, Andrecka Dames, Theo Brice, Rashad, Rashae, Randy Jr, Janea, Rannice, WPC 3748 Renea McFall, CPL 2896 Fraser, Perez Fraser, Stanton & Jael Lloyd and Abbernique McKenzie; GOD CHILDREN: Michael Symonette Jr, Dennison Moxey & Wameda Smith; COUSINS: Evangelist Neilor & Doris McFall, Marcel, Monica, Jane, Janet, Paul, Paula, Frandz, Azeal, Patrick, Arlene, Pedro, Oramae, Niealla Johnson, Ayer & Moniqua; Other relatives & special friends including: Chief Apostle Rev Dr. Leon Wallace and the Voice of Deliverance Family, Rev. Dr. Michael Symonette and the Ebenezer Baptist Church family, Bishop Trevor Williamson & Family, Pastor Rufus Johnson & Family, Pastor Julia Johnson and the Move of God Church Family, Rev. Dr. Carolyn & John Rolle, Commissioner of Police Mr. Ellison Greenslade and the entire Royal Bahamas Police Force, Hon. Michael Halkitis & Family, Brian Brown Golden Isles Constituency, James Davis, Jameco Simmons, Jurich Saunders, Janre Miller, Mikhail Thompson, Jane Roberts, Paulette Poitier-Newton & Family, Jessica Nottage & Family, Craig Wallace, Robert Munroe & Family, Eddie Bain & Family, Eldora James, , Arthur and Carol Edwards, Steve Beneby, Thora Sweeting, Mother Inez Symonette & Family, Margaret Miller & Family, Joanne Smith & Family, Wendy Nixon & Family, Anthony Rolle & Family, Robert Munroe & Family, Davis Family, Dr. Nicholas Fox, Ronald Young, Sandra, Monica & Cleveland Simmons, Marlo Gardiner, Sgt. Bernadette Williams & Family, The Lloyd Family, Monique McPhee & Family, Ed Brown & Family, Wendy Nixon & Family, Val Williams & Family, Lifebouy Street Family(John Chipman St.), Straw Market Family, Wood Carvers Family, Staff of Arawak Homes, The BahaMar Family, Quality Home Center, The Senor Frogs family, The Chub Cay Association, Members of the Police Royal & Ace Softball Team, Government League Softball Association, All former City Market Managers especially Mr. Pickstock and Mr. Cox, Kevin Lockhart, Kevin Mortimer, Ms. Musgrove & Family, Ms. Wildgoose The Public Treasury, The Ghana Circle Families, Former members of The Saber Tooth Tigers and Boys and Girls Club, The entire Elizabeth Estates community, The staff of Princess Margaret Hospital, I.C.U, Male Surgical 1 & 3 especially Dr. Rolle and others too numerous to mention.
Viewing will be held in the Foyer of The Paul H. Farquharson Conference Centre, Police Headquarters, East Street on Friday from 10:30 am to 6:00pm and at the church on Saturday from 8:30am until service time.