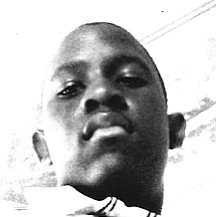 Daysean Romeo Sturrup
unknown - unknown
Funeral Service for Daysean Romeo Sturrup age 11 of Pine Forest Close, Jubilee Gardens who died on April 2, 2016 will be held on Saturday April 30, 2016 at 11:00 a.m. at Remnant Revival International Ministries, Lyon Road. Officiating will be Apostle Victoria A. Russell assisted by Prophetess Lisa Horton Strachan and Apostle Erica Bain. Interment will follow in Old Trail Cemetery, Abundant Life Road.
He is survived by his parents, Alexis Bootle and Fernando Sturrup; grandparents, Donna Bootle, Charles Ingraham and Marinette Hanna-Smith; brothers, Kayden Thurston and Shando Sturrup; sister, China Sturrup; uncles, Desi, Omar, Oliver and Shavirgo Sturrup; aunts, Patrika, Megan, Sheikera Bootle, Lashand Bodie, Valencia Ingraham, Lisa Bonamy, Vanda Davis, Helen Smith and Bridgette Jones; grandaunts, Pauline, Denise, Deborah, Rosemary, Monica and Tracey Bootle, Verona Roberts, Dorothy, Jack, Anne Missick and Lorna Davies, granduncles, Oliver, Fred, Ronald, Franklin and Rev. Glen Missick, Capt. Augustine Roberts Sr. and Dwight Bootle; numerous cousins including: Damiko, Julia, Matthew, Shameka, Omarinique, Duraneisha, Sydneisha, Sydia and Damiko Bootle Jr., Wayne Addison, Chris Clarke Jr., Caswell Davis Jr., Nicole, Keno, Keiwana, Keianna, Kyma, Kai and Kiko Walker, Lathea and Theo Butler, Tonya and Ian Rolle, Brooklyn Dean, Alleslie Gibson, Gabriel Newbold, Terel Taylor and Jayceon Ingraham, Micah, Maya and Maxo Thador Jr., Jamal Albury, Brithney, Norman Jr., and Sophia Griffin, Sandy and Sharelle Saunders, Roberto, Olivia, Ranayah, Aquajah and Roberto Jr., Lyles, Augustine Jr., Dominique, Aiden and Addison Roberts, Augustina, Santo and Santino Brown, Devon, Nakia, Devontae, Javon, Najah and Devonique Kerr, Willard Jr., Kendra, Keitha, Kenaj, Barndon, Johnathan, Ashai, Kareen and Carliyah Rahming, Lawrece and Lawrence Sturrup, Fred and Trevor Jack; special friends, Mr. Colin Hutchison, Judith McPhee and Family, Evadnie Wilson and Stapledon Primary School Community, Apostle Victoria A. Russell and Remnant Revival International Deliverance Ministries Family, Jubilee Gardens #3 Community, Carmichael Road Police Station Summer Curriculars, Patricia Sands, Olga Bullard Dames, Betty Storr and Family, Mr. Butler and Family, John West Sr. and Family, Annissa Wilson and Family, Tanya Moncur and Family, Aline and Andrew Miller.
Viewing will be held in the Legacy Suite of Vaughn O. Jones Memorial Center, Mt. Royal Ave. and Talbot Street on Friday from 12:00 noon to 5:00 pm and at the Church on Saturday from 10:00 am to service time.