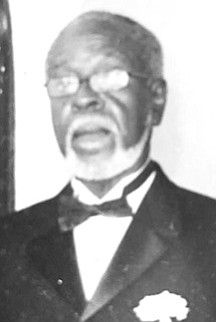 Granville "Hope" Anthony Darling
unknown - unknown
Funeral Service for Mr. Granville "Hope" Anthony Darling age 74 of Bougainvillea Avenue, South Beach Estates and formerly of Chester's Bay Acklins who died on April17th, 2016 will be held on Saturday April 30th, 2016 at 11:00a.m. at Saint Agnes Anglican Parish Church , Balliou Hill Road . Officiating will be Rev.Fr. I. Ranfurly Brown assisted by other members of the Clergy. Interment will follow in The Western Cemetery, Nassau Street, Nassau, The Bahamas.
He is survived by lhis loving wife: Cynthia Eloise Rolle Darling
Daughters: Kathrina Darling, Deneen Darling- Price, Laverne and Chavez Darling 
Sons: Jason Darling and Dwane Darling 
Brothers: Samuel Darling 
Grandchildren: Miguel Darling, Sharanette Deveaux, Laquel Pinder 
Great Grandchildren: Londyn Mortimer 
Nephews: Anthony, Samuel Darling Jr.
Nieces: Patricia, Betty Darling
Grand Niece: Fredericka, Anastacia, Ashanti, and Destiny Thompson, Andricka Gibson
Grand Nephew: Omar Thompson jr, George Ambrister jr
Sisters in Law: Panchita Miller, Maxine Rolle, Sylvia Rolle, Renee Quant, Pearl Allen, Dorothy Hamilton, 
Theodora Walkine 
Other Relatives and friends including : Ruthiemae Percentie, Clifton Martin Jr., Rosemary Elvies, Jasmine Holbert, Amy Dorsett, R. Andrew Dorsett, Shanise Martin, Carlos Elvies, Cordell Elvies, Casey Elvies, Carsel Percentie, Errol Strachan 
Friends: Robert Elliot, Levetta 'Foxy' Fox, Keith Archer, Carolyn Hanna, Marsha Taylor, Earl Carey, Charles Sweeting, Charles Gibson, Derrick Johnson, Eneas Johnson (JC), Tyrone Cunningham, Charlie Bethel, Cedric 'Skamp' Gibson and the rest of the Batelco crew, Denise Kemp, Patrice Bain, Spacey Pinder, Ed Miller, Prince Livingston, Lucinda and Garth Rolle and Family, Andy and Lovise Gomez, Sonny Haven, Cleo Williams, Monique Gomez, Father Ranfurly Brown, Father Tynes, Iris Thompson and Family, Agatha Delancy and family, Shirley Seaford and family, The Miller family, The Quant family, The Hamilton family, The Huyler family, the Walkine family, the entire Rolle family, The Fernander family, the whole South Beach Family, the whole Hawkins hill Family, Augusta Street Family, St. Agnes Church family, St. Barnabas Church Family, Bethel Baptist Church Family, The Medical Staff of South Beach Clinic, Crooked Island Community, Kelly & Lorenzo Neilly, Sarah Hug, Kanyata Gray & The Gray family, Mr. & Mrs. Henry and Family, Kristan Stubbs, Kerah Farquharson & the Rolle Family,  & a host of many other friends.
The Family Sincerely Apologizes for any Names Inadvertedly Omitted .
Viewing will be held in the Legacy Suite of Vaughn O. Jones Memorial Center on Friday from 11:00 a.m. to 5:00 p.m. and at the church on Saturday from 10:00 a.m. to service time .