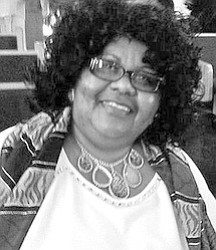 WEDA ISMAE BAIN
unknown - unknown
Funeral Service for the late WEDA ISMAE BAIN age 61 years of Queen Street, Port Nelson, Rum Cay will be held on Saturday, April 30th, 2016 at 11:00 am at Word of Faith Tabernacle, Cox Way, Nassau. Officiating will be Bishop Perry Newton. Interment will follow in Rum Cay Public Cemetery.
Precious memories will linger in the hearts of her DAUGHTER: Nurse Gwendolyn Rolle-Strachan; SON-IN-LAW: Jefferson Strachan; MOTHER: Hermie Bain of Rum Cay; SIBLINGS: Pastor Pearl Maycock, Francis and Kevin Missick of Rum Cay, Deaconess Ruth Bain-McKenzie, Deacon Dena and Lorenzo Sheffield of Atlanta, Georgia; SISTER-IN-LAW: Marguerite Bain; AUNTS: Sonia Bain-Johnson of Miami, Florida, Petrona Major and Ruby Bain of Rum Cay; UNCLE: Catechist Theodore Bain of Rum Cay; Numerous Nieces and Nephews including: Zelma Young of Delon Springs, Florida, Eddie and Dellareese Gardiner, Georgy Williams of Freeport, Grand Bahama, Dwayne and Vanda Miller, Deacon Wayne and Monique Miller, Brain and Latoya Miller, Jamal and Brannita Bowles, William Buchanan, Wanda and Anthony Smith, Pastor Alvin and Joan Lloyd, Mary Jane, Jennifer, Randolph, Deon, Dwight and Jacqueline Maycock, Martin and Doreen Dean, Samuel and Domicia Hepburn, Venito and Keva Bain, Reuben and Dorothy Bain, Alexis McKenzie, Kendena and Thomas Bethel, Danitra and Darrell Faulkner Jr., Jabar and Eldervage Bain, Sergio and Servado Henfield, Ervamae, Ervan, Henrice and Jerried Saunders, Ashley and Ashantie Missick; 40 Grandnieces and Nephews; GODCHILDREN: Philippa Strachan, Rayvon Sawyer, Brittany Sturrup, Diego and Shekinah Johnson; SPECIAL FRIENDS: Patsy Brown, Liette Pratt, Nora Pinder, Ruby Bain and Francita Gardiner of Rum Cay; Host of other relatives and friends including: Theresita Strachan and Family, Shirley and Strachan and Family, Bishop Perry Newton and Family, Joney Rolle and Family of Miami, Florida, Ettimae Major and Family, Jerome and Erica Cash and Family, Joseph and Synovia Harding and Family, Deacon George and Sherene Gaitor and Family, Overseer Dexter Johnson and the Higher Ground Empowerment Center Family Atlanta, Georgia, Delores Wilson and Family, Philip and Jepena Strachan and Family, Selena Turnquest and Family, Dorothy Rolle and Family, Gloria Bain and Family, Harold Strachan and Family, Margurita Taylor, Teddy, Lenny Janice and Hartley Bain, Marg Bain, Zella, Catherine and Paul Major Melvina Gibson and Family, Mary Knowles and Family, Vivian Forbes and Family, all of the descendants of Anne Strachan and their Families, all of the descendants of Iva Bain-Francis, Dr. Phyllis Darville, Dr. Kevin Moss, Bishop Robert McPhee and the Cooper's Terrace Cathedral Highway Church of God Family, Sat. John's Native Baptist Church Family in Port Nelson, Rum Cay, Rum Cay Red Cross Society and Evangelist Granville Emmanuel of Acklins and others too numerous to mention.
Viewing will be held in the Celestial Suite at Restview Memorial Mortuary and Crematorium Ltd., Robinson and Soldier Roads on Friday from 10:00 am to 6:00pm and at the church on Saturday from 9:30am until service time.