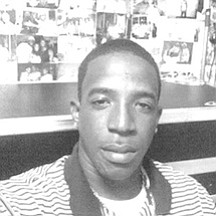 Jerad Murphy
unknown - unknown
Funeral Service for Jerad Murphy age 38 of Toothe Shop Corner will be held on Friday December 30, 2016 at 10:00 am at Church of God of Prophecy Tabernacle, East Street. Officiating Bishop Hulan A. Hanna assisted by other Ministers. Interment will follow in Old Trail Cemetery, Abundant Life Road.
He is survived by his loving parents Shirley Green and Basil Murphy. His two children Jada Murphy and Jaraya Murphy. Sisters Sherell Green, Raquel Murphy-Storr and Deniece Smith. Brothers Trevor Green, Lenardo Murphy Kenneth Mackey . Grand Parents Myrtle and Milton Cartwright , Wilda Forbes. Nieces Shelly , Gabriell, Kenraih, Jadea , Lanell, Travaughn Smith and Janea Edgecombe. Nephews TrevorJr, Donavan Jordan, Devon Bain, Trey Green, Fabian Storr, Kenacid Kenroy, Kenneth, Frankie, Frank Jr. and Travaugh. Grand Nephew Kenrico Edgecombe. Aunty's Debbie, Patsy, iris, Linda, Carmetha, Paula , Mildred, Lean , and Sandra. Uncles James, Brian and Lavade Cartwright, Joe Bowleg and Mervin Smith. Brother In Law Fabian Storr , Sister In Law Patrice Green. Grand Aunts Voil Collie, Corane, Ena Charlton, Sarah Collie, and T Grand . Uncle Freddie and Leon Charlton, Jacob and Samuel Murphy. Special Friend Tereka Johnson. Cousins Vanessa, Joey, Demitre, Trevor, Wadesha, lavade Jr., Liken Cuorie, Toren, Kenece, Kenrico, BJ, Troy Brooks, Gabby, Tyrke Noel, Pedro , lashan, Kovan, Gerarol, Mervin , Maygen, Dejou, Kareem, Adelle, Astra, Hanna, Tyrone, Everica Baptist, Ra-leve, Rhonda, Rashanda, Mivia, Michelle, Herman, Meredith.
Other Family & Friends including: Toote Shop Corner Thompson's Family, One Family Crew, Spray Team, Green Family, Williams Family, Turquest Family, 100 Jamz Crew. Bowleg Family, Debra Turnquest, Better and Family, Lifebouy Street and Family, and Samantha.
Viewing will be held in the Legacy Suite of Vaughn O. Jones Memorial Center, Mt. Royal Ave. and Talbot Street on Thursday from 12:00 noon to 5:00 pm and on Friday at the Church from 9:00 am to service time.