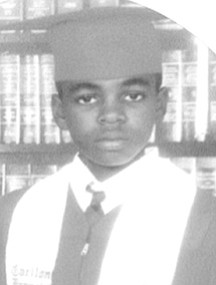 Lorenzo Quinton Bain
unknown - unknown
Lorenzo Quinton Bain
Age: 23
Died on 25th November , 2016. A resident of Bamboo Town.  Funeral Service will be held on Saturday 31st December at 10:30 a.m. at Living Waters Church of God on Marshall Road, Nassau, Bahamas
Officiating: Bishop Wilbert Rolle, Assisted by Pastor Joseph Oliver & Other Ministers
Internment: Spikenard Cemetery, Spikenard Road
Survived By His: Father Dwayne Bain Sr., Mother: Staretta Bain Brothers: Dwayne, Drexel, Theonaldo, Vardo, Jamon Bain, Adopted Brothers: Shawn Stubbs, Jerome Moncur, Michael Collie & Laymon Ferguson, Sisters: Deldreka Bain (deceased), Lakera Bain, Adopted Sisters: Mrs. Christine Morley & Christina Wallace, Nephews: Deshawn, Kendario, Darius, Kenrico, Theonaldo Bain, Nieces: Omara Moncus & Kendra Stubs, Grand Father: Pastor Joseph Oliver, Grand Mother: Mother Ethel Oliver & Eloise Bain, Aunts: Idell, Darlene, Tameka Oliver of West Palm Beach, Florida, Nurse Lynette Deborah, Maxine, Braquelle Nain, Shonelle, Remelda, Ali, Patrisha, Bumbles, Retta, Kera, Sherry, Margaret Oliver, Bethrus, Lenora, Freda Smith, Deborah Burnside, Chevete Burrows, Uncles: Biuey, Livingston, Troy, Eugene, George, Corp, Ronald, Randy, Jefferson, Malvin, Jackson & Taino Oliver, Prison Officer Floyd Francis, Pc Elvis, Great Grand Aunts: Mertle Foulkes, Chalette Oliver, Great Grands: Ernest Bain & Mitchell Martin, Clarke of Freeport G/B, Leslie Bain, Ellie Burrows & Earthly Neely of Lower Bogue, Eleuthera, Sister In Laws: Stevenette Belle & Lashan Clarke, Brother In Law: Ken Stubbs, Grand Aunts: Minister Albertha Burrows, Bethris Gouldo, Collie Francis, Zelpha Mackey, Great Harbor Cay, Rebecca, Bettymae Rolle, Althea & Marina Oliver, Amenta Cambridge of Freeport, Hanna Ste-Marie of Canada, Melva Bastian Rayann Bain, Petrona Longley, Sandra Francis, PC Adeltis Stubbs, Eula Bain, Quintine, Gloria Longley, Salomi McDonald, Yvonne Stuart, Grand Uncles: Godfrey Francis of Great Harbour Cay, Prince Mackey, Ezra Rolle, Henry Bain, Herbert Stuart, Mitchell Martin, Lester Longley, James Longley & Ex– Superintendent Teddy Mc Donald, Cousin: Lynette, Billy, Thorn, Chase, Bradley, Bianca Oliver, Nina Turnquest, Livingston Jr., Deandra Danta, David, Livincea Oliver, Eugene Jr., Eugenia Nukie Oliver, Troy Jr., Demiere, Denice, Kelly Oliver, Giovanni, Giano, Elcort, Caree, Geniah Oliver, Trevonne, Deveaux,Alvin, Denny, Jad & Jade Oliver of West Palm Beach, Florida, Zarah Hanna, Ronald Jr., Narrdo, Ryan, Rianna, Nard & Narny Oliver, Jefferson Jr., Mea & Kayla Oliver, Jeseph, Desha, Deandra, Brandy, Faith, Javonne & Tyra Oliver, Nicky, Floyd Jr. Francis, Earl Johnson, Terecitta Curtis, Lashae Sands & Amber Francis, Ricardo & Shanae Albury, Jamaine & Angelo Longley, Desiree Stuart, Lashan & Tory McDonald, Dr. David Stuart, Christine, & Marilyn Bastian, M.P. Whitney Derek, Dmmie Delory Bastian, Naomi Turner, Maureen Ellis, Coleen Bain, Nicee Bain, Linda & Fritz Cambridge, Living Waters Church Family, Bethesda Faith Ministry Family (Cowpen Road), Prayer Team Faith Ministry & Family.
A Host of other Relatives & Friends Including: Bishop Wilbert & Idelle Rolle & Family, Collins Bastian & Family, Ray Minnis & Family, Pastor Lenora Sands & Family, Joan Belle & Family, Christina Gray & Family, Pastor Lydia Ferguson & Family, Pastor Loroda & Marge Pigerstock & Family, Bishop Wilard Smith & Family, Prophetess Terra Rolle & Family, Carolyn Forbes & Family, Albert Munnings & Family, Pastor Regiland & Morther Shirley Ferguson & Family, Albert Munnings Family, Pastor Carl Oliver Family, Edison Colebrooke Family, Melanie Russell, Melcine Russell & Family, Junior & Mary Hinsey & Family, Derek & Igatha Oliver & Family, The Bob Marley Resort Manager's & Staff Family, Rolle, Martin, Woodside, Piekstock, Brown, Canter Families, The Bamboo Town Community, The North Andros Community, To Numerous to Mention.
 
 
 
Viewing will be held at Vaughn O Jones Memorial Center on Friday December 30th from 10 am to 5 pm and at the church from 9:00 a.m. until service time.