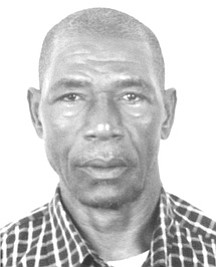 Maxwell McBride
unknown - unknown
Funeral Service for the late Maxwell McBride age 59 years of Moore's Island, Abaco will be held on Saturday, December 31st, 2016 at 11:00 am at St. Matthew's Baptist Church, Moore's Island, Abaco. Officiating will be Pastor Ishmael William assisted by Charles William and Pastor Preston Knowles. Interment will follow in the Public Cemetery, Moore's Island, Abaco.
Left to cherish his memories are his wife: Anastacia McBride; daughter: Maxverna McBride; adopted daughter: Katina Richardson; sons: Kemeo and Remeo McBride; grandchildren: Ansel Johnson, Cyrinique Williams, Khazeriah, Shadai and Walter; sisters: Bethsheba, Rudimae and Ranae; brothers: Utlas, Alfred, Cardinal, Ednol, Edroy, Kingston and Earlin; nieces and nephews: Lakeisha, Felecia, Alfred Jr., Jerenice, Jermeka, Cordero, Frisco, Eunite, Eulissa, Nigel, Dencil, Vennessa, Francheska, Shaquille, Kingston Jr., Kavanti, Kenton, Kamani, Kaynia, Ebony, Ednia, Jude, Thalia, Cardinal Jr., Wendella, Royann, Khadafy, Nichole, Sharanda, Elroy, Zhane, Raheem, Cameron, Brandon, Reginal, Gregory and Kyron Minnis, Tavonya, Katie, Hanequa, Shanayah, Treniqucia, Taje, Terrance Jr., Jorell, Jorald; grandnieces and nephews: Domonic, Jameka, Jamario, Jamaria, Lavon, Faya, Jameir, Nijae, Shanya, Aryannah, Tyler, Alfred III, Deontae, Deshanae, Clinique, Nevaeh, Kevantae, Omar, Ramy, and Alicia; uncles: Ritchie and Kingsly McBride; father-in-law: Frederick Rolle; mother-in-law: Mary Rolle; sisters-in-law: Linda, Vernita, Kamara, Margaret, Sherica, Joyann, Taramae, Fredericka, Sabrina and Kishlane; brothers-in-law: Barry, Arario, George and Terrance; aunts-in-law: Vernita and Justina; godchildren: Donelle and Janet McBride, Noel; cousins: Leo McBride and Family, Robert Swain and Family, Felix Swain and Family, Karen Stuart and Family, Shayann and Family, Wenzel, Oswald, Brendalee, Percy McBride and Family, Rodger Russell and Family, Kevin Delancy and Family, Willamae Feaster, Christine Swain and Family, Chee Chee Dean, Valentino Feaster and Family, Tiny Johnson; godmother: Ms. Emily McBride; other relatives and friends including: PMH Male Medical Surgical Ward and Dr. Lewis, Andy Johnson and Family, Franklyn Hunt and Family, Cindy, Ruthann, Cecile Stuart and Family, Wilfred Heild and Family, Tony, Retha, Davis Family, Ms. Emily, Charles Minnis and Family, The Bights, Suemae and Family, Mary Rolle from Berry Island, Cleo Johnson Family, Sabrina, Mr. Dorsett from Freeport, Tiny, Kissy, Samantha, Keisha and Ericka; and others too numerous to mention.
Viewing will be held at the Burial Society Hall, Moore's Island on Friday, December 30th 2016 from 5 pm to 11 pm and at St. Mathew's Baptist Church from 9:30 am until service time.