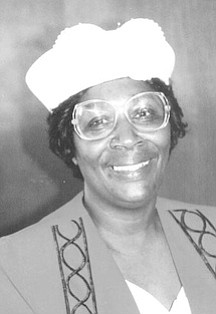 Althea Marina Rolle Smith-Sands
unknown - unknown
Funeral Service for the Late Elder Althea Marina Rolle Smith-Sands age 73 years, Resident of High Rock, South Andros, will be held on Sunday February 28th 2016, at 11 am at Hillview Seventh-day Adventist Church, Tonique Williams-Darling Highway, officiating Pastor Eric D Clarke, and Pastor Paul A. Scavella assisted by other ministers of the religion. Interment will be in St. Andrews Cemetery, High Rock, South Andros.
Left to cherish many fond memories are, husband, Eric Sands, children, Katherina Smith, Nurse Preatta & Otto Gibbs, Denise & Wayne Curtis, Shandera Smith, Maxwell & Antoinette Smith & Adrian Smith, Angela & Wilfred Ferguson, Cynthia Taylor, Ruthlyn Sands, Julita & Leslie Johnson, Elder Patrick Sands, Stanley & Marcel sands & Patsy Francis, grand children, Dr. Deval & Wayne Rolle & Leading Mechanic Derward Smith, Dr. Tessa & Corporal 245 Willard McKenzie, Dr. Otto Gibbs & Nurse Teneil Gibbs, Maxwell Smith Jr., & Kendea Smith, Dominique, Lashanda, Prenessa, Oquendo, Sandrian Adrimar, Tanae & Joshua Smith, Whitney, Wynter & Wayne Curtis II, Latoya Newman (adopted), Lavardo Ferguson, Pastor Anastacia, Bansie, Elwood, Goulandris, Arnoldo & Jaron Taylor, Lasleyann, Leslie Jr., & Javano Johnson, Stanley Jr., Roshon & Jabez Sands, great-grand children, Wayne Michael II, Devanaire & Dayneah Rolle, Malayah Smith, Jhaya Kiara & Zachary McKenzie, sisters, Norma Elvease Johnson & Bishop Fearlease Carey, aunt, Nadeen Coates, nieces & nephews, Shevanna, Shanovia & Rakeem Wilson, Angelo, Sharella, Ayanna & Ariella Smith, Monalisa Carey & Tristan, Temar, Rebecca & Matthew Carey, Lenroy Rolle, Allen Negron, Tammara Shird & Joshua Johnson, other relatives & friends including, Muriel Ash, Arlean Smith & family, Pastor Elijah & Christina Ferguson & family, Prince, Nathaniel, Donnie, Vernita & Cynthia Adderley, Lucy, Ruthnell, Jane, Roland, John, William & Bertram Smith, Dorothy, Alice, Maedawn, Prenell, Pamela, Stafford, Lucas & Herman Armbrister & Morgan Rolle, Claudette Ferguson, Lillian Newbold, Judy Rolle & Family, Annabelle Davis & Family, Vernal Rolle & Family, Sylvia Kemp & Family, Jennie Neeley, Ione Sweeting & Family, Magnolia Rolle & Family, Amos Flowers & Family, Charles Johnson & Family, Joseph Johnson & Family (Smith's Hill), Joseph Johnson & Family, (High Rock), Pastor Glendina Knowles & Family, Theophilus Rolle & Family, Lecitus Gibson Jr., Eula Nixon, Noralee Cartwright, Anton Rolle, Leona Curtis & Family, Zendall Forbes, Waltarez Palmer, Maseleana Rolle & Family, Stanley McPhee & Family, Edmund & Emily Rahming, Norwood Rahming & Family, Preston Johnson & Family, Deaconess Cecelia Kersaint & Family, The High Rock, Blessed Hope, Kemp's Bay & Macedonia Seventh-Day Adventist Church Families, Members of South Andros Handicraft & Manufactures Association (SAHMA), Pastor H.A Roach & Family, Pastor Eric D. Clarke & Family, Pastor Leonardo Rahming & Family, Pastor Basil Sturrup & Family, Pastor Paul Scavella & Family & other ministers of the South Bahamas Conference of Seventh-Day Adventists & the Atlantic Caribbean Union.
Relatives & friends may pay there last respects at Riverside Funeral Chapel on Market Street & Bimini Avenue on Saturday from 10am until 5 pm & at the church on Sunday from 9:30 am until service time.