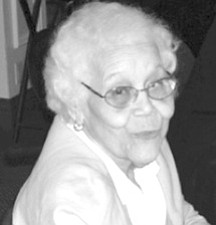 Barbara Audrene Sherman
unknown - unknown
Funeral Service for the Late Barbara Audrene Sherman, aged 89 years of Highland Park and formerly of Alice Town, Bimini, who died on Thursday, 18th February, 2016, will be held on Saturday, 27th February, 2016, 11:00 a.m. at Christ Church Cathedral, George Street. The Very Rev'd. Dean Patrick Adderley assisted by Rev'd. Fr. Joseph Mcklyewhtye and Rev'd. Fr. Colin Saunders will officiate. Interment will follow in St. Mary's Anglican Church Cemetery, Virginia Street.
She is survived by her Sisters: Blanche Weech, Geraldine Brown, June Sands and Patricia Kenny; Roslyn Dean, Dressler and Iris Sherman; Brothers: Arthur Jr. Basil, Cecil, Alvin, Bert, Godfrey, Ivan and Brentley Sherman; Adopted Sons: Larry(Corine) Brown, Patrick Brown and Kirk Thompson; Adopted Daughters: Sharon Ena Brown, Joyce Marie Cooper (Gary) and Leslie Fox; Adopted Brother: Dorsey Rolle; Step-Mother: Winifred Sherman; Brothers -in- laws: Wilfred Weech, Hugh Sands and Paul Dean; Sisters -in- laws: Carol, Betty, Rose, Faith, Patty and Prudence Sherman; Nieces and Nephews: Jeannie, Mark, Phillipa, Andre, Denise,Sonya, Patricia,Bridgette,Italia,Keith, Lisa, Rory, Tanya, Simone, Erica, Paul, Michael and Kevin,Viveca, Tinnii, Olufemi, Charmeeka, Amanda, Ashley, Godfrey, Glenise, Godwind, Brentley, Briquel, Gary, Brittany, Courtney, Vanessa, Yawntalay, Tony, Kia, Lavado, Sharma, Latoya, Tory, Donte, Antonio, Olivia and Amelia; Numerous Grand and Great Grand Nieces and Nephews including: Sharene, Lavar, Jevon, Lavonne, Davia, Kingsley, Dion and Hailey; Numerous Cousins including: The Family of the Late Brooks Sherman and the Late George Sherman; Numerous God Children including: Bernadette, Ann , Ernestine , Andre, Angel and Leveta. Other Friends and Relatives including: Agnes Saunders and Family, The Very Rev'd Patrick and Mrs. Adderley, Fr. Joseph and Mrs. Mcklewhyte , Fr. Grant, Jan, Barbara Checkley, Clarice Granger, Annamae Poitier, Mr. and Mrs. Linclon Rolle, Mr. and Mrs. Frank Hinzey, Mr. and Mrs. Barry Sawyer, Mr. Fabe Stuart, Dr. Perry Gomez, Grace Douglas, Anja Dillet, Italia DeGregory, Mr. and Mrs. Everette Sands, Mr. and Mrs. George Weech, Mr. and Mrs. Emmanuel Mosko, Diane Stewart, Mr. and Mrs.Lloyd Edgecombe, David Rolle, Barbara Hanna, Rudymae Dames, Mr. and Mrs. Lionel Rolle, Marissa Weech, Francois, Nana, Deidre Pinder and the entire community of Bimini. Caregivers including: Dr. Cherilyn Hanna, Veronica Gray, Nurse Paige Mitchell, Elsa Barrett and Angel Elite Nurses.
Friends may pay their last respects at Bethel Brothers Morticians, #44 Nassau Street, on Friday from 10:00 a.m. to 6:00 p.m. There will be NO VIEWING at the Cathedral.