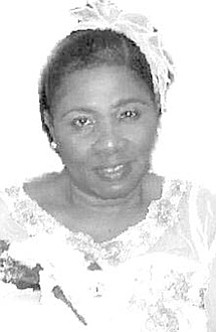 VERONICA LAVERNE ROMER CLARKE
unknown - unknown
Funeral Service for the late MOTHER VERONICA LAVERNE ROMER CLARKE age 57 years of Flamingo Gardens and formerly of Old Bight, Cat Island will be held on Saturday, January 30th, 2016 at 11:00 am #23 The New Lively Hope Baptist Church, Jerome Avenue and Chesapeake Road. Officiating will be Rev. Dr. A. Shelton Higgs assisted by other Ministers of the Gospel. Interment will follow at Woodlawn Gardens, Soldier Road.
Cherished memories will forever remain in the hearts of her loving MOTHER: Miriam Saunders; FATHER: Samuel Romer; STEPMOTHER: Paula Romer; DAUGHTERS: Alissa Romer, W/Cpl 2437 Tamica Clarke, Chazkara Sweeting and Nekoda Clarke, SONS: Rollies Clarke I, John Clarke II and Varian Clarke; ADOPTED DAUGHTERS: Shakara Robinson, Maudline Cooper, Crystal Wilson, Amanda Arthur and Demetria Ferguson; GRAND CHILDREN: Joelicia Ferguson, Chrysanthia Cox, Larenzo Poitier Jr., Rollies Clarke II, Rollies Clarke III, Rolleasha Clarke and Dylan Storr; SISTERS: Eloise Martin, Suzette Lightbourne, Olga Lightbourne, Pauline Williams, Olive King, Rochelle Romer, Tammy Romer, Ingrid Romer, Annier Romer, Melony Kelly, Deborah Brennen, Brothers, Charles Saunders , Robert Larrimore, Matthew Larrimore, Edgar Lightbourne, Phillip Romer, Adrian Romer, Trevor Romer and Darren Romer; AUNTS: Eloise Wilson, Marina Wilson, West Palm Beach Fl. and Dorothy Wilson; UNCLES: Harrison Wilson, Whitfield Wilson and Rudolph Wilson; SONS-IN-LAW: Damian Sweeting and Larenzo Poitier; SISTERS-IN-LAW: Emma Hinsey, Vernie Newbold, Deborah Rolle, Jackie Romer, Linda Clarke, Elaine Clarke, Elizabeth Saunders and Velma Romer; BROTHERS-IN-LAW: Clay Martin, Wendell Clarke, George Clarke, Godfrey Clarke, Michael Hinsey, Bill Williams, Christopher King, Dwight Kelly, Stephen Rolle and Cecil Newbold; NIECES: Claynella, Audrenique, Chaneice, Uniqua, Nathalia, Zariya, Verinique, Olivia, Latiska, Darrinique, Sasha, Reba and Anna; NEPHEWS: Charles, Charron, Jaylis, Donnavon, Davaughn, Clinton, Darson, Tonio, Darren, Clay Martin Jr., Roberto, Charles Jr. Alpheus and Charlton; GOD FATHER: Carlton Rolle - C.J; GOD CHILDREN: Aria Francis, Zayden Robinson; Numerous Cousins and Other Relatives, The Children of the Late Amos Gaitor, Wilsons, Saunders, Moncur, Hepburns, Seymour and the entire Old Bight Community, The Children of Dorothy Clarke, Barbara Clarke and Family, Jackie and Kendrick; FRIENDS: Lucy Sands, Ella Knowles, Anna Forbes, Hazel Adderley, Mrs. Swan and Family, Inspector Yvonne Albury & Family, Patsy Clarke & Family, Mr. Desmond Bannister & Family, Mr. Michael Fields, Mrs. Caroline Rolle and the Nominee Team at Cititrust (Bahamas), Ltd., Rev. Dr. Robert Butler & Family, Rev. Lavado Duncanson & Family, Rev. Julian Anderson & Family, Mr. Michael & Mrs. Samantha Cartwright & Family, Anatol Rodgers High School Family, Mrs. Judith Major & Family, The College of the Bahamas, Rev. Dr. A Shelton Higgs & Family, The New Lively Hope Baptist Church Family, Flamingo Gardens Community, Harbour Island Community, Old Bight, Cat Island Community, Good News Seventh Day Adventist Church Flamingo Gardens, Mr. & Mrs. Sandiford & staff of One on 1 Preschool, Royal Bahamas Police Force, Kiwanis Club Division 22, Coconut Grove Community, Supt. Macktavaous Daniels & Family, Mrs. Wells & Family, Rev. Hulan Hanna & Family, New Mount Olive Union Baptist Church Family, Magnola Bastian & Family, Mr. & Mrs. James Cleare & Family and Patrice Armbrister and Family and a host of other relatives and friends too many to mention.
Viewing will be held in the Celestial Suit at Restview Memorial Mortuary and Crematorium Ltd., Robinson and Soldier Roads on Friday from 10:00 am to 5:00pm and at the church on Saturday from 9:30am until service time.