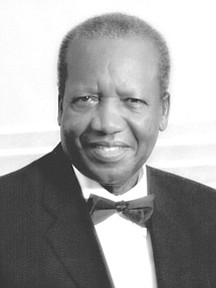 Alfred Benjamin Williams
unknown - unknown
Funeral Service for the late Alfred Benjamin Williams age 76 years of #39 Sapphire Ridge Drive will be held on Saturday July 30th, 2016 at 10:00 am at Wesley Methodist Church (MCCA), Malcolm Road East. Officiating will be Reverend Cecil Newbold assisted by Reverend Clair Robinson, Reverend Kenneth Huggins and other Ministers of the Gospel. Interment will follow in Woodlawn Gardens, Soldier Road.
Precious memories will forever linger in the hearts of his SON: Mark Williams; DAUGHTERS: Stacie Williams and Tami Dorsett; GRANDCHILDREN: Marley and Charlotte Williams; SON-IN-LAW: Randol Dorsett; DAUGHTER-IN-LAW: Rachael Williams; ADOPTED DAUGHTERS: Tenaya Johnson and Teruco Tynes; COMPANION: Garnell Daphne Rolle; BROTHERS: Charlie and David Garland; SISTERS: Lillian Williams, Jane Bain, Dulcie Woods, Sarah (Belle) Simmons, Muriel Parker, Annie Garland, Lillian (Hattie) Garland, Helena Adams, Ida Barranco and Jean Quant; BROTHERS-IN-LAW: Johnny Wood, Michael Simmons, Osmond Parker, Robert Adams, Lionel Barranco, Robert Quant John Kemp Sr., Wilfred Thompson, Caldwell, Bradley and Gary Pratt; SISTERS-IN-LAW: Sharon Dames, Beverley and Karla Pratt, Gwendolyn Williams, Mary and Joanne Garland, Vernita Meadows, Beryl Elliott, Virginia Bullard; AUNT: Lillian Bootle; UNCLES-IN-LAW: Beaufort, Garnet, and Arthur Dorsett; Numerous nephews including: Shawn, Jay, Ricardo, Orlando, Michael, Wayde, Calvin, Gerard, Shannon, Osvon, Diend, Jonico, Juan, Tevaz, Jhaz, Chad, Cameron, Zane, Kaizer, Ryker, Dane, Dwayne, Deveroux; Numerous nieces including: Debra, Rochelle, Kimberlee, Shanelle, Toni, Cherese, Leja, Sheena, Tamisha, Carla, Alyssa, Garrinique, Tanya, Shemika, Bradtesha; Numerous cousins including: Lillian Strachan and family, Geoffrey Woods and family, Howard Miller Jr. and family, Peter and Aurelia Miller and family, Jacob Shaw and family, Veronica Mackey and family, Clinton Williams and family, Barbara Williams, Sheila Grant, Betty Smith and family, Olive Carey, Jennifer Jones, Ernest Moore, Anna Jennings and family, Bishop Clarence Williams and family; GODSON: Demetrius Scavella; Host of relatives and friends including: Ernestine Douglas and family, Genevieve Scavella & family, Mr. & Mrs. Randol Dorsett & family, Sasha Dorsett, Linda Davis & family, Willamae Cunningham & family, Calvin Bain, Mr. & Mrs. Joseph Ledee & family, Dorothy Been, William and Lucy Lightbourne and The Disabled Peoples Organization, Derick Gilbert, Gregory Armbrister, Stanley Williams & family, Iris Bonimy & family, Mr. & Mrs. Errol McKinney & family, Gina Smith & family, Mikeiko Brown, Anya Williamson, Pamela Brown, Ravi Noronha, Sherry Flowers & Family, Bridgette Butler, Michelle Campbell, Michelle Fox, Fezia Petit-Homme, James and Madge Williams, Betty and Sidney Young, Benkeisha Louis, Wolanza and Virginia Dean, Cecil Hilton & family, , Dr. & Mrs. Palukuri & family, Vernis Storr, Dorothy Moultrie & family, Cliff Fields, Mr. & Mrs. Robert Yeo of Singapore, Mr. & Mrs. Ray Sullivan & family of Australia, Pat Whyms & family, Pat Baker & family, Ms. Grant, Rose Mackey, The Walking Crew ( Cleomie, Cassie, Carolyn, Maud, Tony, Vylma, Emily and Sheba); Special thanks: Hardworking Nurses of Male Surgical I and II, Dr. Munroe and his staff, Dr. Tyrone 'Butch" Bartlett, Reverends' Newbold, Demeritte and Brown, The Bahamas Bar Association, and The Wesley Methodist Church Family.
Viewing will be held in the Serenity Suite at Restview Memorial Mortuary and Crematorium Ltd., Robinson and Soldier Roads on Friday from 10:00 am to 6:00 pm and at the church on Saturday from8:30 am until service time.