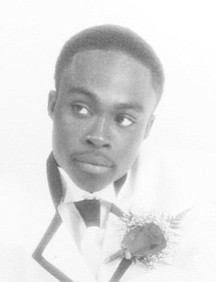 Anthony Gustavius Theo Lightbourne
unknown - unknown
Funeral Service for Anthony Gustavius Theo Lightbourne age 29 of Firefly Road, Stapledon Gardens who died on July 15, 2016 will be held on Saturday July 30, 2016 at 10:00 a.m. at New Light Ministries, Faith Gardens. Officiating will be Rev. Antonio O. Beckford Sr. assisted by Rev. Marvin Duncombe and Other Ministers. Interment will follow in Woodlawn Gardens, Soldier Road.
He will be fondly remembered by his Parents: Anthony and Beverly Lightbourne; Sister: Antoinette Miller (Jami Miller); Brother: Detone Rolle Sr. (Diane Rolle); Grandparents: Naomi Lightbourne, Rovenia Rolle, Ronald Miller Sr.; Niece: Jamika Miller; Nephews: Devon, Deshawn, Detone Rolle Jr., Keanu Miller; Aunts: Maxine Minns, Eulamae Nixon, Clarice, Olga, Caroline, Angela & Vera Rolle, Sharon Collie, Dorothy Swann, Gaylene Moxey, Michelle Rolle(Baltimore, Maryland), Hortence Bain, Brenda Cox, Corene & Mispah Miller, Charity Thompson, Frankiemae Davis, Noralene Johnson and Janet Demeritte; Uncles: Charles Lightbourne, Bernard, James, Cephas Rolle Jr., Howard Rolle (Baltimore, Maryland), Joel, Omedius, Earl, Eneas, Jonathan, Delvon and Ronald Miller Jr., Rufus Swann, Dudley Collie and Prince Bain; Grandaunts & Uncles: Stella Major, Ray and Rosemary Saunders, Calford and Ruth Hamilton, Leanna Rolle, John and Barbara Rolle, Effie Kemp, Gerlene Jones, Rev. Moses and Deaconess Mable Cox, Evelyn Ferguson, Vendall Deveaux (Philadelphia, PA.); Cousins: Marvin, Gina, Glenice, Madeline, Janice, Tanya, Darron, Keith, Dameko, Marissa, Daamal, Danielle, Daniesha, Athalia, Anastacia, Algernon, Anya, Aneka, Anver, Shavonne, Kimara, Avery, Barry, Kacy, Mika, Nicole, Jackie, Tanya, Tiffany, Christina, David, Danielle, Joshua, Claudine, Oswald, Jeffrey, Joyce, Nadia, Chavonne, Sheneka, Noral, Noralette, Tiffany, Shekiah, Elston and James; Godparents: Tanya Stubbs and Derek Ferguson; Other Relatives and Friends: Carlos Thompson, Kim Mackey, Antone Dean, Lavardo Knowles, Recardo, Leonardo, Javon, Okell, Dr. Magnus O. Ekedede and the Medical staff of ICU at Doctors Hospital, Special Thanks to Nurse Kemp and the Doctors and Nurses at Princess Margaret Hospital Private Medical Ward, The Management and Staff of World Resorts Bimini and other friends too numerous to mention.
Viewing will be held in the Legacy Suite of Vaughn O. Jones Memorial Center, Mt. Royal Ave and Talbot Street on Friday from 11:00 a.m. to 5:00 p.m. and on Saturday at the Church from 9;00 a.m. to service time.