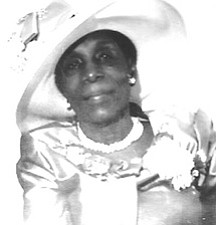 Minerva Smith
unknown - unknown
Funeral Service for the late
Minerva Smith, 88
of Garden View Estates will be held on Saturday at Kemp Road Ministries at 10:00 a.m. Officiating will be Rev. Ivan F. Butler assisted by other ministers of the gospel. Interment will follow in Lakeview Memorial Gardens, J. F. Kennedy Drive.
She is survived by her Children: Mark and Vernice Smith, Anastacia Smith, Keoni Smith, Denzel and Lynn Smith, Theodore & Sharma Strapp, Margo and Keith Mcintosh; Grandchildren: Saintel Smith, Nadia Wallace, Antonia Smith, Jerquel Lewis, Tristen Lewis, Reginald Knowles Jr, Briteni Darling, Addis Huyler, Jessica Martin, Theodore and Dominic Strapp, Shantell & Wallace Phillipe, and Angelique Lloyd; Great grandchildren: Josiah Armarly, Khaden and Liam Knowles; Sisters : Alberta Rollins and Edna Bain;
Nephews: Greg Armstrong, Victor Rollins, Tyrone Rollins, Sean Christie, Gary Knowles, Cye Rahming, Pat Rolle, Shirvargo Rolle Hugh, Donny, and Warren Bain, Timothy Musgrove, Kendal Munroe and Dasario Mackey; Nieces, Rose- Marie Fox, Linda Fitzgerald, Agatha Christie, Melanie Woodside, Monica Fox, Linda Butler, Debra Fernander, Margo Mackey, Gaylene Burnside, Dothlin Hynes, Rochelle Bain and Shanique Clarke,Yvanda Munroe Rolle, Rosemary Whylly, Oraly Coakley, Keysa Albury and Deborah Munroe; Sisters - in law: Marilyn Smith Francis, Brenda Hanna, Roseline Cartwright, Velma Black, Millicent Smith, Marjorie Alleyne; Numerous Relatives And Friends Including: Rev Dr. Charles W. Saunders, Barbara Dorsette, Ismae Culmer, Bassie and Theophilous Clarke , Mr Kalif & Jacqueline Poitier & Family, Jason Lewis, Sister Wilmae Evans, Crystal Fox, , Val McKenzie and Family, Dr. Rev. Ivan Butler and Family, Rev. Reginald Knowles Jr and New Born Church of God, Indira Collie, Janiqua Strachan & Family ,Cheryl Daxson, Sister Willamae Evans, Coralee Ferguson and Family, Sharon Lewis & Family, The Browns Family, The Saunders Family, The Clarke's Family, The Musgrove Family, The Deleveaux Family ,Clement and Regina Hall and Family, Edna Sands & Family, Kemp Road Union Baptist Church Family, The Thompson Family, Moss Town Exuma Family, Garden View Estates Family, Estherlena Wallace & Family, Sharon Lewis & Family, Nyokia Nixon & Family, and The Thompson Family.
Viewing will be held on Friday at Evergreen Mortuary located on Collins Ave & 5th Terrace from 10:00a.m. - 6:00p.m. and again at the church on Saturday from 9:00a.m. until service time.