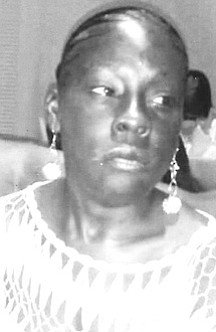 Laderia Elva Curry
unknown - unknown
Funeral Service for Laderia Elva Curry, age 28 of Key West Street will be held on Saturday, June 25th 2016 at 2:00p.m. at New Bethany Baptist Cathedral, Key West Street. Officiating will be Bishop Victor Cooper Jr. assisted by other Ministers of the Gospel. Interment will follow in The Southern Cemetery, Cowpen and Spikenard.
Left to cherish her memories are her Daughter: Robin Smith, Son: Daron Curry Jr, Parents: Estella Gray and Livingston Curry, Step mother: Murial Curry, Adopted mother: Eloise Nixon, 9 Sisters: Nadia Wallace, Natasha Gray, Nicole Davis, Henrietta Gilbert, Paula and Barbara Stuart, Maxine and Peatra Curry and Sharon Newbold, 2 Adopted sister: Felicia Wallace and Vanessa Seymour 4 Brothers: David Gray, Akeem Smith, Andrew Sr and Peter Curry II, 2 Adopted brothers: Dominic Missick, Leslie Edgecombe III, 26 Nieces: Kendesha, Jameka, Tavia, Rickia,  Davianna, Davinique, Riccara, Daviricka, Taliah, Latoya, Lashan, Darcel, Sheneker, Alvinique, Sharicka, Shakeria, Shonna, Annaya, Andrewnique, Andricka, Kendra, Laketra, Lavinca, Petranique, Rishanda, Herminica; 16 Nephew: Renardo Jr, William Jr, Rev Ricardo Jr, Shorn, Romel, Alvin Jr, Peter III, Devontay, Petro, Andrew Jr,  Kendrick Sr, Victron, Thmark, Dwayne, Ricardo Jr Daniel; 4 Grand niece: Adina, G'Ashanique, Savannah, Shaniyah 2 Grand nephew: Deshawn, Jamari; 12 Aunt: Deaconess Mary Pratt, Rosemary and Shaniece McPhee, Pearalee, Vernice and Virgina Minnis, Cordell Adderley, Sherene Gray, Hattie Clarke, Janet Albert, Francis Whylly, Roslyn Peters; 2 Grand aunts: Virginia Mortimer and Judy Minnis 9 Uncle: Rev. James Pratt, Ivan Moss, Raymond and Kendal Mcphee, Charles and Huge Minnis, Victor Adderley, Clinton Whylly, Christopher Colebrooke 1 Grand uncle: Randolph Minnis. Cousin: Shavette,  Andrea, Karen, Shanice, Shamar, Keith, Shonel, Stephen, Raquel and a host of other relatives and friends: Daron Curry Sr, Robert Smith, Javaris Dean, Linden Taylor, Stacey Rolle, Ruth Lubin, Dr Hurbert Minnis, Loretta Bulter-Tunner, Mr and Mrs Burrows, Sheila Moss, Veranique Johnson and family, Harvey Bethel and family, Leslie Edgecombe Sr and family, Theo Morley, Crystal Johnson, Christian Newbold and family, Sha Shirley Leadon, Janiece Sears and family, Granville McKenzie, Adam Cartwright,  Deborah Adderley,  Sherelle Rolle, Lathies Brown, Deshawn Wright, Roshan Miller, Tanae Darling, Michelle Ferguson, Sylvia Musgrove and family, Edricka Burrows, Thomas Neely and family, William Pierre Sr, Alvin Smith, Beverly Farquharson, Irene Sawyer, Clarissa Toote, Charlesetta Newbold, Arnette Roker, Netta Lowe, Gary and Tina Rolle, Mackey, Minnis, Female Medical 1 Key West Street and Montell Heights Community and many others too numerous to mention.
The body will repose in the Blessed Redeemer Chapel at Ferguson's Funeral Directors, 7th Terrace Collins Avenue, on Friday from 10a.m. - 5:00p.m. and at the church on Saturday from 1:00 p.m. until service time.