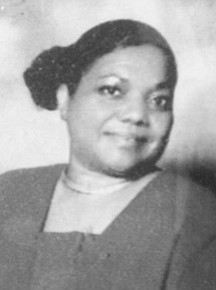 Sarah Healias Oliver
unknown - unknown
 
Funeral Services for the Late Sarah Healias Oliver, age: 55 a resident of Ripley Street Dunmore Town, Harbour Island, Bahamas, who died at Dekalub Medical Centre Decatur Georgia June 5th,will be held at The Church of God of Prophecy, Duke Street, on Saturday, June 25th, 2016 at 11:30 a.m. Officiating will be Bishop Ghaly Swann assisted by: District Overseer Minister D. Philip Ferguson and other Ministers of the Gospel. Interment will follow in St. Catherine's Cemetery, Dunmore Town, Harbour Island, Bahamas .
 
She is survived by her devoted husband: Joseph Alexander Oliver Sr. Four children: Lathecia Justin) Young, Alexandria, Alexander Joseph Oliver Jr. (Lanricka) and Jasmaine Oliver, one step son Kaden Oliver, one sister: Deaconess Monique (Pedro) Morley : two brothers: Montgomery Basden, Pastor Oshnal (Valderine) Knowles, five grand-children: Jayden, Alexon, Judah, Alexia and Jaylyn. Aunts: Dianne Culmer, Ruth Percentie, Jannie Moxey, Lillis Imlach, Luann and Shelly Saunders. Uncles: Eric, Peter, Loran and Dennis Curry and Rev. Gralin Moxey: Numerous Nieces and Nephews including: Pedro Morley Jr., Pedraniquah, Daniel & Paige Morley, Tiara Knowles,Montgomery, Shanique, Avis Munroe, Jaime Priscilla) Moxey, Lucian (Samuel) Lightbourne, Joshua Moxey, Edward & Asher Munroe, Hailey Moxey, Portia (Shawn) Taylor, Sonia Culmer, Ulysees Jr. (Donna) Culmer and Daron Culmer, Ashan, Ulecia, Sydiah and Lyric Culmer, Coralie Sands, Cheryl Higgins, Walberger Collie, Louchie Bryant, Louise Rolle, Agnes Rass, Gretchen Davis, Elizabeth Roberts, Tony Roberts, Erica Sturrup, Mario Sturrup, Gustone & Linda Lewis, Patricia & Jackie Sawyer, Delroy Lewis, Dexter (Nicole) Lewis, Shavonya Basden, Mother-in-Law: Annie Oliver; In-Laws: Iris (Samuel) Lewis, Justina (Don) Mackey, Wilfred (Susan) Oliver, Remilda & Jason Oliver, Gregston (Calae) Oliver, Marilyn Oliver, Judyann (Kevin) Wells & Sidney (Erica) Oliver; God-mother: Conswala Saunders, God-children: Andrea Oliver, Thorn Higgs and Anthony Williams Jr.
 
A Host of other Relatives and Friends: Lugana Higgs, Margaret Grant, Beryl Saunders, Wilma Bullard, Alvin Cash, Wilton Brown, Betty Davis, Juanita Mather, The Culmer Family, The Higgs Family, The Lewis Family, The Johnson Family, Bertha Lewis & Family, The Darville Family, The Sawyer Family, The Thompson Family, The Woods Family, The Percentie Family, The Miller Family, The Davis Family, The Mather Family, The Barry Family, The Cleare Family, Damien Ingraham, Alexion Rolle, Mario Bowleg, Brent Deveaux, Headlese Smith, Deandra Thompson, Darcy, Mr. Paul Smith (Electro Telecom), Nita Curry & Family, Mayfield Neely & Family, The Saunders Family, The Church of God of Prophecy, Workers House, Pension Fund Department, The Staff of DeKalb Medical Centre, Decatur Georgia, Nassau, Hatchet Bay, Tarpum Bay, Andros and Harbour Island Communities.
Relatives and friends may pay their last respects at THE CHAPEL OF MEMORIES THE NEW COMMONWEALTH FUNERAL HOME INDEPENDENCE DRIVE