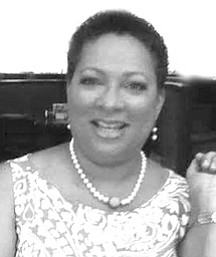 Simone Claudine Bain-Outten
unknown - unknown
Funeral Service for Simone Claudine Bain-Outten, aged 48 years of#10 Contential Ave., Twynam Heights, who died on Saturday, 18th June, 2016, will be held on Saturday, June 25th, 2016, 11:00 a.m. at The Church of the Epiphany, Prince Charles Drive. Rev'd Fr. Atma Budhu assisted by Rev'd Canon Delano Archer, Rev'd Canon Norman Lightbourn and Rev'd Hugh Bartlett will officiate. Interment will follow in Woodlawn Gardens, Soldier Road.
She is survived by her Husband: Anthony Alexander Outten; Children: Alexandra, Michelle & Rachel Outten; Parents: James & Gwen Bain; Mother-in-law: Maud A. Outten; Sisters: Deidre Bain, Rosalie De Castro; Brothers: Brian & Kevin Bain, Malcolm Adams; Sisters-in-law: Gayle Outten-Moncur & Makeba Bain; Brother-in-law: Andrew Moncur Sr.; Aunts: Dorothy Seymour, Carolie Grant, Barbara Lockhart, Edith Burns, Gaynell Williams, Emily Clare, Ismae Seymour, Jasmine Sands, Shelia Bain, Rosemae Bain Idenia Bain, Alma Thompson and Berthly Culmer; Uncles: David, John & Wellington Bain, Edward Seymour Jr. and Naaman Culmer; Nieces: Adriann Moncur, Bria, Kayla, Hannah, Sarai, & Layla Bain; Nephews: Andrew Moncur Jr., Elliotte, Samuel, Nathan, Reuben & Jaedon Bain; Godchildren: Megan Rahming, Loryne Burrows & Joey Ford; Other Relatives & Friends: Cynthia Basden of New York, Helen & Surance Bhagwandin of Miami, Velma Counts & Family of Virginia, Georgina & Dallas of New Jersey, The Basden Family of New York, Bobby Fulford & Family, , Iris Seaton & Family, John Robinson & Family, Irvin & Rev. Clare Robinson, Carol Simmons & Family of Miami, Rev Dr. Howard Mills & Family, Honourable Norman B. Saunders & Family, Randolph Turnquest & Family, Barbara Rodgers & Family, Edga Hall & Family, Mr. & Mrs Eugene Calder & Family of Bermuda, Mr. & Mrs Anthony Romain, Linda Sands & Family, Mr. & Mrs. Irvin Moore, Marsha Deveaux & Family, Janet Thompson, S. Dianne Miller, Alfred "Freddie" & Alma "Kiki" Albury, Raymond & Althemese Darling, Weston & Andrea Saunders, John & Peggie Knowles, Caroline Abdulle of Florida, Andrew Knowles of New York, Derek, Paul, Andrea & Rochelle Knowles, Chauntell Williams, Ricardo, Dewitt & Stephanie Culmer, Leisa Johnson, Dino & Sheryl Smith, Stephen, Pamela and Simone Outten of the United States, Dr. Herbert Orlander, Frank Gallagher, Virginia Bullard & Family, The Charlow Family, Emil & Shirley Saunders & Family, Family Members of South Caicos, Turks & Caicos Island, including the Basdens, Mills, Saunders, Hanchells, Brooks, Robinson, Lightbourns, Seymours, Stubbs, Ellis, Clares, Godets, The friends of Sandy Point Abaco, the entire church family of Epiphany Anglican, Church, Dr. Curling & Family , Cedric Parker & Family, Canon Norman Lightbourne & Family, Fr. Atma Budhu & Family, Class of 1984 of Queens College, Dr. Locksley Munroe, Dr. Homer Bloomfield, staff of Bains Electric Co. Louis Hanchell & Family, Gina Scavella , Robert Mullings & family, Kendal Robins & family, Angels Elite Nursing Agency, United Football Club, Staff of Bahamas Power and Light and Bahamas Welding & Fire and St. Anne's School's Family and others too numerous to mention.
Friends may pay their last respects at Bethel Brothers Morticians, #44 Nassau Street on Friday from 10:00 a.m. to 6:00 p.m. and at the church on Saturday from 10:00 a.m. until service time.