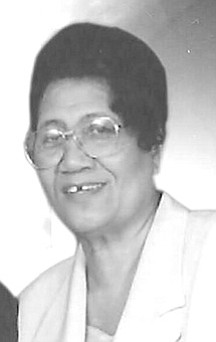 Barbara Delores Bain
unknown - unknown
Funeral service for the late Mother Barbara Delores Bain age 80 years of Matthew Town, Inagua will be held on Saturday, March 26th, 2016 at 10:00 a.m. at Zion Baptist Church, East & Shirley Streets. Officiating will be Rev. T.G. Morrison assisted by Other Associate Ministers, Deacons and Evangelists. Interment will follow in Woodlawn Gardens, Soldier Road.
Precious memories will forever and always be in the hearts of her Loving & Devoted Husband: Pastor Godfrey L. Bain; Sons: Cedric, Tyrone, Dawson & Dexter Bain; Daughters: Blythe Bailey, Janice McKinney, Wendy Bain, Barbara Pinder, Aldrea, Lavanda Bain & Camille Bennett; Adopted Sons: Marcus, Kayman, Maston Evans Jr. Dorin Evans, Pastors T. G Morrison, David Butler & Napthali Cooper, Thomas Hanchell; Adopted Daughters: Gayle Davis, Claudette, Shantell, & Natheira Evans, Audrey Burrows, Dinamae Mackey; Sons-in-Law: Benjamin Bailey, Clement McKinney, Don Pinder, Terry Bennett; Daughters-in-Law: Ursula, Barbara, Cheryl & Renecia Bain; Grand Children: Manny Charlton (Nickisia), Loriann, Alecia, Nathaniel (Tia) Bailey, Valda, Vandrea McKinney-Claridge (Michael) Valencia Mckinney, Tamiko, Tristan & Trevell Bain, D'Andrea, Dianca & Donnell Pinder, Ronald Jr, Rochelle, Rolando & Rovard Roker, Tyrone Jr & Tramiane Bain, Dorchelle & Chelsea Bain, Matthew McAlpine & Michelle Boston, Dereja, Makaila, Alecia Bain, Jordan Bennett, Ruby Palacious; Great Grand Children: Vallent, Joshua, Keely Charlton, Philip Sturrup III, Vanessa & Michaela Claridge, Brianna McKinney, Tiaisha & Tazahria Bain, Kayden Kenny, Ronald Roker III, Tanae, Riley Roker, Rinique Roker, Ternajah Ferguson, Talaya & Tanajh Palacious, Xavier McAlpine & Zariah Boston; Brothers: Godfrey Cunningham, John & Oswald Lightbourne; Sister: Sylvia Turnquest; Sisters-In-Law: Velma Bain, Deaconess Willamae Cunninghmam & Rev. Persis Cunningham; Adopted Sister: Arrie Evans; Aunt: Bloneva Darville; Nephews: Christopher (Philippa), Cardinal, & Kendal (Tonia) Bain, Geron Jr., (Valerie), Donovan, Wade, Trevor (Lynette), Dexter (Tyra), M.P. Peter (Sonia) & Lionel (Lisa) Turnquest, Christopher Cunningham, Reginald, Godfrey Jr., Mark (Aniska), Marv (Kenya), Mario Cunningham, Tino Lightbourne, Michael, Raymond & Kevin Bain; Nieces: Pauline Rolle, Sharon (Lionel) McIntosh, Camalee (Herbert) Major, Doreen (Evans) Gardiner, Glendina (Dwayne) Gardiner, Sylvia (Thomas) Watson, Goldie Bain, Rochelle (Solomon) Gadson, Stacia (Ronald) Morgan, Sonia (Dennis) Cates, Nannette (Derek) Dorsett, Veronica Ferguson, Melinda & Tameka Cunningham, Annabell (Keith) Cornell, Vanesha, Alsaida & Ceslee Lightbourne, Loriann & Alecia Bailey, Marjorie Simmons, Leann Lightbourne, Cheryl & Angela Bain; God Child: Ramon Hererria; Special Family & Friends: Vivian Moultrie, The Allen Family, The Pritchard Family, The Cartwright Family, Iva Nixon & Family & The Nixon Family Tree, Annie Green & The Hanchell Family, The Hall Family, Mispha Edgecombe & Raquel, Jerona Knowles & Deno, Maxine Thompson, Kim Harvey, Patsy Brown, Sis. Izzie Davis, Dewitt & Gwen Cartwright & Family, Dr Barro & Inagua Clinic Staff, Muriel McIntosh & Family, Stephanie Wallace & Family, Lilly Beneby & Family, Ray Malcolm & Family, The Missionary Band (Zion, Inagua), The Cooper Family (Long Island), Sislyn McIntosh & Family, Maria Pickering & Family, Vernon & Phyllis Symonette & Family, Ethalyn Cartwright & Family, Ronald Roker Sr, Kayleigh Armbrister, Anthon & Lathon Thompson, The Mackey Family, Zion Baptist Church Families (Inagua & Nassau), Apostle Nelson Strachan & Family, Cassell Higgs & Family, Ms. Karen Kikivarakis, Mrs. Antionette Pinder & Family, Mrs. Ursula Chisholm & Family, Glenys Hanna – Martin & Staff of Ministry of Transport & Aviation, Phenton Neymour, Dr. Fredrick Smith (Primary Care Physician), Drs. Duane Sands, Michael Darville, Francis, Cargill & Others. Nurses and Care Takers at Doctors Hospital and the Entire Community of Matthew Town, Inagua.
We do apologize if we did not mention your names; there are too many persons to list, please know that she appreciated everyone genuinely whom she became in contact with.
Viewing will be held in the Celestial Suite at Restview Memorial Mortuary and Crematorium Ltd., Robinson and Soldier Roads on Thursday (TODAY) from 10:00 am to 6:00pm and at the church on Saturday from 8:30am until service time.