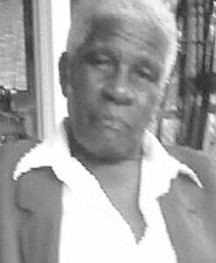 NOEL "Sheriff" JOHN BOOTLE
unknown - unknown
Funeral Service for MR. NOEL JOHN BOOTLE affectionately called "Sheriff", age 78 years of Cooper's Town, Abaco will be held on Saturday, March 26, 2016 at 11:00 a.m. at New Life Ministries, Cooper's Town, Abaco. Officiating will be Pastor Cedrick Bullard, assisted by Pastor Reginald Cox. Interment will follow at South Side Cemetery, Cooper's Town Abaco.
Precious memories will linger in the hearts of his wife: Carnette Bootle; sons: Martin and Teddy; daughters-in-law: Edith and Joanne Bootle; grandchildren: Cassie Lowe, Bianca, Tiandra, Donnie, Shatara, Martin Jr., Trajan, Theodore, Theorah T'Keyah and Shaneille; great grandchildren: Theon, Cassidy, Takhori, Tamari, Shyloh, Jemia, Mckaya, Mcgarret and Shelton; nieces: Victoria, Fiona and Kristin Bootle, Mitcheline, Evelyn, Sandra, Deidre, Linda, Portia, Francis Marilyn, Ethel, Shariene, Delilah, Helen, Inez, Ivy, Denise, Zelma, Jeaneane, Andrea, Shantae, Emily, Charmaine, and Melly Pedican; nephews: Theophilus, Jimmy, Augustine, Lluellyn, Clifford, Harrison, Joseph, Elvin, Lynden, Deno, Sean, Sammy, Audrick, Oral, Drexel, Dennis, Gary, Mario, Glen, Mavhel, Charles, Basil, Reginald, Kevin, Michael, Keith, Coakley, Cliff, Neil, Patrick and Troy; nieces and nephews-in-law: Veronica, Verona, Vernicka, Linda, Ada, Laura, Jenny, Brenda, Violet, Judy, Rosemary, Vincent, Virgil, Vernal and Victor; sister-in-law: Anne Bootle; god sister: Thelma Edgecombe; brothers-in-law: Stafford, James Williams and Rubert Williams; aunt: Lillian Bootle; cousins: Joy Duncombe, Nelda Laroda, Serletta Sawyer, Barbejene, Ethama, Paula, Max, Steve, Derick, Karen, Sam, Albert, Richard, Erma, Nan, Lorene, Jim, Prince, Parnell, Chjarles, Clarence, Wilbert, Queenie, Ewie, Mitcheline, Floyd and Maxine Simms; other friends and relatives: The Boodles from Murphy Town, Cardi McIntosh,Louis, and Mary Swain, Billy Cooper, Phillip Lowe, Bernell Williams, Leslie Cornish, Maria and Gersil Edgecombe, Cooper family, Russell family, Poitier family, McIntosh family, Rolle family, Edgecombe family, Murray family, Bootle family, Sawyer family, Nairn family, Jones and Saunders family. Special thanks to Dr. Consilta and the staff of Coopers Town clinic.
Viewing will be held at New Life Ministries, Cooper's Town, Abaco on Friday from 3:00 pm. to 8 p.m. and at the church on Saturday from 9:30a.m. until service time.