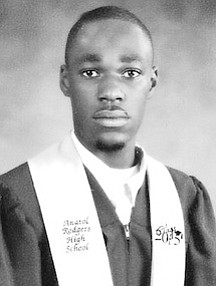 Rodrige Ellisaint
unknown - unknown
Funeral Service for Rodrige Ellisaint age 22 of Carmichael Road will be held on Saturday March 26, 2016 at 11:00 a.m. at the Lutheran Church, John F. Kennedy Drive. Officiating will be Rev. Samuel Boodle. Interment will follow in Southern Cemetery, Cowpen and Spikenard Roads.
Left to mourn his passing are: His mother, Adline Thompson; Father, Odenat "Jack"Eliassaint
Two Brothers, Christopher Thompson and Jean-ClaudEliassaint of Miami Florida; One Sister: Alexis Thompson; Grand-Mother: Irene Thompson; One Niece: Alexia Thompson; Two Nephews: Alexio & Vincent Thompson; Three Aunts: Daphne Newbold, Antoinette Thompson& Patricia McHardy; Five Uncles: Trevor, Elwood and Kevin Thompson, Ronald Newbold Sr. and Jason McHardy; Five Grand Aunts: Doris Rolle, Juanita Hunter, Ernestine McKenzie, SandraCurry & Ada Rolle; One Grand Uncle: Moses Pinder; Cousins:Cassandra, Rondavia, Ronesha, Shantol, Jasonique, Kandi, Miracle , Keja, Ronald Jr., Deveron, Ronardo, Daran, Desmond, Kevin Jr, Jayson, Aaliyah, Alicia, Donell, Hope, Keiron, Mekhi, Amaris, Giovanna, Shenique, Lavario, Tito, Deallo, Natalia, Shaquae, Shaquania, Kelly, Natesha, Patrika,Silveste, Eyette Judith, Cerymonia & Geanmonday, Polinyce.;A host of relatives and friends including: Marjorie Rolle,Olive Thomas, Hilda Charlton & family, Marjorie Basden& family,Jennifer Brennen, Iris Brown, Sandra Walker, Shelly Kelly,Dedrie Barry, Bricemae Gibson, Annalee Murphy, The Godet family, The Newry family,Rev. Joseph Thompson & Family,Absolom Roach & Family,Phame Higgins, Altamease Thompson, Finetta Thompson,David Sunel, Mack Smith, Sherry Greene & Family, Barbara & Samantha Smith,Isadora Bastian& Family,Ervin Munnings, Rodney & Kevin McKintosh, CesilLynes, Lavese& Dante Riley, Paul, Sarah, Paula & family, Georgette & Alberto David, Arnette & Dianne Ferguson, Maxine Cooper & Family, TheSands family, Nicky Morley, The Sears family, The Higgs family, The Marshall family, Rufus Collie & Family, Carolyn Russell & Family, The Lutheran Church of Nassau Church Family, The Carmichael Bible Church Family, The Carmichael Evangelical Church Family, The City of Israel International Church Family,The Honorable Kenred Dorsett, The Honorable Michael Halkitis, the entire Flamingo Gardens, Millers Height and Montgomery Avenue community family. 
There will be no viewing.
Funeral Arrangements are being handled by Vaughn O. Jones Memorial Center, Mt. Royal Ave. and Talbot Street.