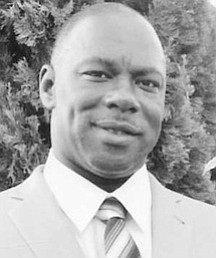 Eucle Dave Deveaux
unknown - unknown
Last rites for Eucle Dave Deveaux, age 52 of Pinewood Gardens, and formally of Stafford Creek, Andros, will be held on Saturday 26th November, 2016 at St. Michael's Methodist Church, Churchill Avenue at 10:00 am. Officiating will be Rev. L. Carla R. Culmer and Rev. Kenris Carey, Assisted by Brother Franklyn Bethel. Interment will follow in Lakeview Memorial Gardens.
Treasured Memories will forever linger in the hearts of his: Wife: Clarice Deveaux; Children: Ucal Jr, Ushanda and Shabria Deveaux; Brothers: Dennis, Ivan [Pretisha], Supt. Kendal Sr. [Carolyn] and Kevin [Franchester] Deveaux; Sisters: Cecily Colebrooke, Monique [Chief Correction Officer David, BDC] Rahming and Jaclin [Douglas] Ferguson; Mother in –law: Ellen Gilbert; Aunts: Rev. Doris Tinker of Mastic Point Andros and Naomi Deveaux; Uncle: Samuel Baillou; Nephews: Roscoe, Corey, Kevin [Francheska], Trevor, Kenron, Kendal Jr [Westishia], Danario, and Adrian Deveaux, Daivano and Devaughn Rahming, Anthony Bodie and Douglas Ferguson Jr., Kendrick Lightbourne [Deandra], Roger Smith, James [Almonique], Ramon, Tarran, Desomnd jr., Patrick jr., Rashad, Kyron, Marco, Azare, Christopher jr., Destin Gilbert, Glenwood Rahming, Christon & Tory Deveaux, Matthew Moss and Andy Wallace; Nieces: Keisha [Denard] Cleare, Dennisha Ferguson, Sheniqua [Angelino Sr.] Cooper, Teora Collie, Allison [Jermaine] Brooks, Tiffany Davis, Keva [Anthony] Dillet, Tara, Travette, Kennise and Daphne Deveaux, Cindy Lightbourne Mackey [Rodneiko], Shacara Culmer, Anishka, Michelle, Christna, Jade Gilbert and Shantell Taylor; Grand Niece: Lauren Deveaux; Grand Nephews: Keishaun Rolle, Joseph and Jamie Collie, Dwayne, Terrano, Rashem and Kaiden Deveaux, Tayveno and Montayo Davis and Anthaio and Angelino Jr. Cooper, Kamarrii Bodie, Kristian Cleare and Paiden Mackey; Brother's- in- Law: Mark, Theodore, Mitchell, Patrick, Arnold, Desmond, Christopher Gilbert, Roger Smith and Brian Lightbourne; Sister's-in-Law: Ann Lightbourne, Laurie, Sheree, Emily, Nursing Officer Monique, Sgt. Alice, Elizabeth and Jamaleka Gilbert; Aunt's in-law: Pearline Johnson and Florida Butler; Uncle in-law: Rev.Benjamin Gibson; Cousins: Sharon Wilcox, Trenece, Peter, Tiphany, Deyaughn and Darien Jolly, Brenda Nixon, Melrose Evans, Janet Gibson, Beryl Allen, Carla Johnson, Larry Johnson, Alma, Evelyn, Patrice, and Wendy Riley, Dornell Riley-Davis, Patrick and Elvis Riley, Karen Sands, Pauline, Beverly, Darnell, Craig, Shawn and Richard Baillou, Nicole Tinker, Lashawn Brown, Danza, Blair, Maxine, Shanrose, and Andrea, Joan Saunders, Eunika Rolle, Patsy Gibson, Bettyanne and Laurieanne Gibson, Alfreda, Johnnie, Roland, Mark and Phillip Rolle, Owen Gibson and Marvin Fowler. Rev. Kenris Carey, Audrey Deveaux, Constance Deveaux-Munnings, Dedra Deveaux-Ferguson, Hon. Earl and Bonnie Deveaux, Lavarity Deveaux, Deveral Ferguson, Meryl, Elva Arnold and Shervin Brown; Other Relatives and Friends: Maxwell and Rose Roberts, Mr. & Mrs. Glenroy Oliver, Doulesia Ferguson, Stanell Babb, Pandora Evans, Olivia Roberts, Dwight Roberts, the entire Stafford Creek Community, Christine Rolle & Family, Glen Dean, Nat Stubbs, Trevor Culmer & Family, Ricardo Ferguson [Sleepy], Willard Cartwright & Family, John Rolle Sr./jr., Cpl.535 Kipling Rolle [R.B.P.F], James Rolle, Ministry of Works and Urban Development [HR. Dept.], Mr. & Mrs. Seymour, Miriam Cartwright & Family, Maria Barr, Peter Poitier, Samuel Brown, Kim Butterfield, Merclee McQuay, Beau McQuay, Robert & Priscilla Farquharson, Cleo & Shanell Griffin, Bruce Seymour, (Speed) Williams, Meredith & Tien Martin, John Scott, Members of the Shirley Club, Charles W. Saunders Baptist Primary School (Grade 1 Evans) , the Stapledon Community Association, Other Friends and Family whose names are not mention. We thank you all for your Love, Prayers and support.
The body will repose at Curtis Memorial Mortuary on Friday 10:00am to 5:00pm and at the church on Saturday from 9:00am until service time.