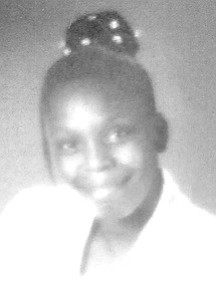 Suzette Wilson Edlee Forbes
unknown - unknown
Funeral Service for Suzette Wilson Edlee Forbes age 39 years, Resident of Sir Lynden Pindling Estates, will be held on Saturday November 26th 2016, at 11 am at Miracle Working Church of God, Domingo Heights West, Nassau Bahamas, officiating Chief Apostle Dr. Quebell Martin JP, assisted by Rev. Dr. Jerline Martin JP, organist Minister Mike Rolle, Interment will follow in Southern Cemetery, Cowpen & Spikenard Road.
Left to mourn her precious memories are Husband, Sheldon Forbes, children, Kalis Hilton & Sheldonique Forbes, parents, Miriam Saunders & Earrgton Lightbourne, grandmother, Virginia Burrows, brothers, Charles Saunders, Robert & Matthew Larrimore & Edgar Lightbourne, sisters, Eloise Martin, Olga & Angie Lightbourne, Margaret Lightbourne-Rolle, & Veronica Romer-Clarke(Deceased), nieces, Claynella Martin, Audrenique, Uniqua, Chanecie, Nathalia, Zariya, Verinique, Olivia, Latiska, Darrinique, Sasha, Reba, Syrita, W/CPL 2437 Tamika Clarke, Chazkara, Nekoda Clarke, nephews, Charles, Charron, Jaylis Roille Clarke, Donovan, Davaughn, Clinton, Orville Cocharne, Alvin Anderson, Davren, Clay Martin Jr., Roberto, Charles Jr., Alpheus, Charton, John Clarke I, John Clarke Jr II, grand nieces, Adrianna & Reah, grand nephews, Theo, Norman, Rayvon & Adrian, aunts, Elizabeth Saunders, Joyce, Eloise Wilson, Loretta Kemp, Mariana Wilson, Daniels West Palm Beach, Dorothy Wilson, uncles, Rudolph Wilson, Harrison, Whitfield, Wilson, Wellington S. Stabsoa 1813, Lawrence St NE Washington D.C 20018, cousins, Robert Sands, Rodger Sands, Davis Sands, Crystal, Kenny, Tracy, Tameka, Beverley, Donna, Dantra, Jackie, Derrea, brother-in-laws, Douglas Marshall, Ricky Marshall, Kenny Marshall, mother-in-law, Una Marshall, sister-in-laws, Amear Marshall, Grace Barry, Rocell Forbes, Sherrell Forbes, Dieand Forbes, other relatives & friends including, Burrows Family, Hepburn, Seymour, Sands & Saunders Families, Wilson Family, Knowles Family, Class of 1995 of C.C. Sweeting High School, Close friend & family & Staff South Beach Clinic, P.M.H Staff, Dr. Black & Staff House.
Relatives & friends may pay there last respects at Riverside Funeral Chapel, Market Street & Bimini Avenue on Friday from 10am until 5pm & at the church on Saturday from 9:30 am until service time.