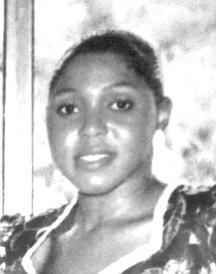 Vanessa Violet Taylor
unknown - unknown
Funeral service for
Sister Vanessa Violet Taylor, 48
a resident of Jack Fish Drive, Golden Gates #2, will be held at Golden Gates World Outreach Ministries, Carmichael Road, on Saturday 26th November, 2016 at 10:00 a.m.  Officiating will be Bishop Ros Davis. Interment follows in Southern Cemetery, Cowpen & Spikenard Roads.
Left to cherish her memories are her Parents: Daniel & Romain Taylor; GRAND PARENTS: Claygon Taylor ( deceased), Yvonne Taylor; SISTERS: Lydia & Valerie Taylor, Pauline Lockhart; BROTHERS: Pastor Walter Taylor, Minister Ashley Taylor, Marcus Taylor; SISTERS-iIN-LAW: Mrs. Christine Taylor, Maureen Taylor & Georgia Taylor; BROTHER-IN-LAW: Pastor Burton Lockhart; NIECES: Waltia, Erin, Christka, Christa Rolle, Vanessa Lockhart; NEPHEWS: Ashton, Walter Junior, Jude Taylor, Burton Junior, Leroy Michael Rolle 3rd; COUSINS: Victoria Hall, Dellarese, Evelyn & Mekell Junior, Lynette Foster,  Geo, Mickey, Mayshanay & Kishno Taylor, Sandra Ferguson, Beryl Lloyd, Jenny Bethell, Judy Rolle, Portia Collie, Dennis, Dudley Jr. Mary Beneny, Elther, Albert, Brian & Derick Bain, Michael Hanna, Renaldo Taylor, Ernestine Johnson, Juliamae Johnson Roberts, Mary, Roberta, Leona & Maureen Taylor, Doretha Smith; AUNTS: Winifred Bain, Flossiemae Hanna ( deceased); UNCLES: Bishop Nelson Johnson, Dudley Taylor of Baltimore Maryland, Michael; OTHER RELATIVES AND FRIENDS INCLUDING: Pastor Vernon Hanna, Dorothy & James Watson Hallandale Florida,  Gloria Major, Joann USA, Romaine Nixon; SPECIAL THANKS IS EXTENDED TO: Princess Margette Hospital Female 1 To Dr. L. Bartholomew & nurse Genique Gator.
Friends may pay their last respects at Demeritte's Funeral Home, Market Street, from 12-6:00 p.m. on Friday & on Saturday at the church from 9:00 a.m. until service time.