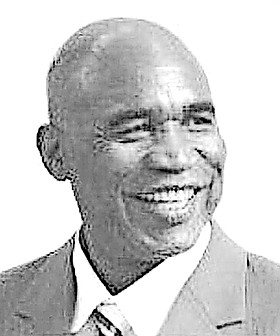 ALEXANDER EUGENE NOTTAGE
unknown - unknown
Funeral Service for
ALEXANDER EUGENE NOTTAGE, 61
of #26 Wellington Lane, Stapledon Gardens ,who died on Tuesday, August 8th 2017, will be held on Sunday at 1 p.m. at Hillview Seventh-Day Adventist Church, 135 Tonique Williams Darling Highway. Officiating will be Pastor C. Melvin Lewis, assisted by Pastor Larry Green and Pastor Sylvester Burrows. Interment will follow in Lakeview Memorial Gardens, J.F.K Drive.
He is survived by his Wife: Valencia Gibson Nottage; His 9 Children: Alexia Nottage, Tiah Grimes, Giah Rigby, Kellie Nottage and Ashra McCardy, Javie Gibson, Lasalle, Onassis and Saphyre Nottage; Father: Eugene Nottage; 13 Grand Children: Kaylee & Kyle Grimes, Taya, Tnai and Tanj Rigby, Kamal Sands, Kaylen Nottage and Javinique, Javod, Samson, Travis, Caelyn & Bourne; 5 Sisters: Nathalee Dorsett, Theresa Adderley, Coralie Pierre, Karen Nottage and Sarah Outten; 6 Brothers: Alfred Ramsey, James, Gary, Anthony, Charlton and Valentine Nottage; 3 Uncles: Luther Humes, Ezekiel Nottage and Edmund Miller; 3 Aunts: Lizrene Saunders and Katherine Humes and Mary Nottage of Freeport, Grand Bahama; 3 Sons-in-law: Ed Grimes, Holton Rigby and Waylon McCardy; 8 Sisters-in-law: Anita Ramsey, Joy, Ramona and Val Nottage, Mavis Seymour, Sandra Stewart, Daphne Nixon and Virginia Gibson; 5 Brothers-in-law: Terrance Outten, Jeff Adderley, John Pierre, Leamorn Seymour and Clyde Nixon; 41 Nieces: Karell, Rashanty, Mary, Felica, Jamie, Chantell, Shahieka, Shakera, Garynique, Tara Otten, Latoya, Letesha, Patricia and Cleomie Nottage, Aliah Ramsey, Bernadette Turnquest, Petronah Moncur, Donell and Sherry Butler, Lorraine Cox-Fordhan, Necola and Torsheka Cox, Dominique Shepherd, Minnie Bodie, Brandy Taylor, Shandell, Tiffany, Sheika, Shamkera, Jamie, Cassandra, Janay Outten, Garrinique, Richea, Rashone Nottage, Marcia, Corelle Sands, Toya & Tiesha Adderley, Lashawn and Trinitee; 38 Nephews: Jamal, Travis, McHail, Neko, Richard, Valentino, Alrae, Kermitt, Adrian and Tony Ramsey, Brian, Ryan Sands, Syrant, Oquendo Pierre, Kendall, Kendrick, 3148 Terrance, 5197 Eugene, Damian and Anthony Outten, Stanford Pinder, Anthony and Jameson Cox, Whyome and Lesley Huyler, Omar Forbes, Donald and Ronald Nottage, Patrick Moncur, Julian Butler, Rodger Deuvalier, Joseph and Phillis Newbold, Alrae Ramsay, Jamal O'Quindo Sorent, Valentine, Bryan and Ryan Sands; Numerous Cousins: James, Merriam, Brenda and Anthony Nottage, Leatha Hepburn, Godfrey McCoy, Leamorn Gordon, Caleb, Joshua, Zipporah Wilson, Miriam Stuart, Mary Jane, Florine Bain, Maria & Dorrington Poitier, Olive Gaitor, Poonkie, Petronah and Patrick Moncur, Donell, Sherry and Julian Butler, Roger Duvalier, Joseph & Phyllis Newbold, Stanford Pinder, Lorraine Cox Fordhan, Anthony, Jameson, Necola and Torsheka Cox, Omar Forbes, Whyome Huyler, Minnie Bodie, Brandy Taylor, Lesley Huyler, Patrica, Donald, Ronald, Cleomie Nottage, Merriam Nottage, Anthony Nottage, Anthony, Donnie, Ruth, Millestine, Murriel, Dave, Inez, Fenrick, Prudence, Norine, and Jamerson Nottage, Keith and Sirkeithra Nottage, Derrick, Carolyn, Craig, Aniska, Tyrone, Nottage and Monique Colebrooke; And a host of other Relatives and Friends including: Keith and Shekiethra Nottage, Mrs. Patricia Sands, Mrs. Linelle Reid, Mrs. Ginger Rahming, Sherry Francis Diggis, Joan, Melissa, Kwame and Joe Selver, Mariette Ferguson, Caregiver-Kayon Marcks, Pastor David and Derek Adams, The Gibsons, Bethells, Curtis, Seymours, Gardiners, Rahming, Knowles, Adderley, Johnsons, Stewart, Laing, Williams, Nixon, Maycock Families, Pastor, Officers & Members of Baptist Bible Church, Pastor, Officers & Members of Gospel Light Baptist Church, Pastor, Officers and Members of Hillview Seventh Day Adventist Church, New Testament Baptist Church, Stapledon Gardens Community, Montel Heights Community, Good Samaritan Home, P.M.H Male Medical 1, Bahamas Air, Security Masters, Aliv, Grand Lucaya Hotel, Cherry Diggs, Linell Reid and Patricia Sands.
Friends may pay their last respects at East Sunrise Mortuary, Baillou Hill Road & Cordeaux Avenue from 10 a.m. to 5 p.m. on Saturday and again on Sunday from 12 noon at the church until service time.