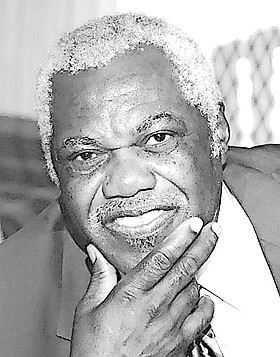 BERTRAM LESTER FERNANDER
unknown - unknown
Funeral Service for
BERTRAM LESTER FERNANDER, 74
of Isabella Blvd., Marathon Estates and formerly of Cockburn Town, San Salvador will be held on Saturday, August 26th, 2017 at 10:00 a.m. at Abundant Life Bible Church, Abundant Life Road. Officiating will be Pastor Gil Maycock, assisted by Pastor David Cartwright. Interment will follow in Woodlawn Gardens, Soldier Road.
He was predeceased by his daughter: Tanya;
Left to cherish his memories are his wife of 53 years: Bernice Fernander; Children: Lester (Charmaine), Brent (Alicia), and Stefan (Suzanna) Fernander; Grandchildren: Dominique, Dawn, Lester Jr., Chavez, D'shawn, John, Cortez, Kaizan, Garvin, Trevan and Ethan; Great-grandchildren: Renacko, D'marco, Rocasia, and Dawnae; Sister: Patricia Dievieull; Brothers: Wellington (Melinda), Glinton (Delores) Fernander; Brothers-In-Law: Sydney (Perline) Rolle; Sister-In-Law: Vernita Rolle, Janet (James) Cartwright, Joyce (Harry) Ferguson, Evelyn Culmer, Merlene Taylor; Nieces: Audrey, Cynthia, Michelle, Ena, Andrea, Collette, Paula, Tonya, Tonya, Sonia, Keva, Lydia, Dian, Daphanee, Deborah, Andrea, Alva, Lencha, Jacklyn, Cinda,Valerine, Dorette, Cindy, Arlicia, Prescola, Judyann, Linda, Nichelle, Merissa, Gayle, Therena, Kajia; Nephews: Paul, Peter, John, Nixon, Ackwright, Wilfred, Eddison, Perry, King, Shervin, Weldon, Herbert Jr., Harvey, Allison, Delton, Dexter, Archie, Carlos, Clayton, Clifton, Floyd, Errol, Kevin, Trevor, Timothy, Whitney, Terrance, Ricardo, Jason, Dwayne, Sean, Leron, Kirk, Ken, Javone, Taurian, Kranz, and Rickey; Friends: Mrs. Julia Pratt, Sis Ina Maycock, Marva Moxey, Stella Miller, Dr. Lina and Manny Reyes, Crystal Murray, Lillian and Lennard Miller, Emmanuel Johnson, Cardinal Cumberbatch, Mrs. Dorian Cox, Zack Dorsett, Capt. Charles Smith and the 30th Company of the Boys Brigade, Men and Ladies Prayer Group, Pastor F. Edward and Sister Velma Allen, Pastor Algernon and Sister Barbara Malcolm, Co-Pastor Cranston Knowles, Co-Pastor Gil and Helen Maycock, Pastor David and Sister Mizpah Cartwright, The Abundant Life Bible Church Family, Doctors and Medical Staff of ICU Unit at the Princess Margaret Hospital, Neighbors and friends of Isabella Blvd. Marathon Estates and other friends and family too numerous to mention.
Viewing will be held in the Irenic Suite at Restview Memorial Mortuary and Crematorium Ltd., Robinson and Soldier Road on Friday from 10:00 a.m. to 6:00 p.m. and at the church on Saturday from 8:30 a.m. until service time.