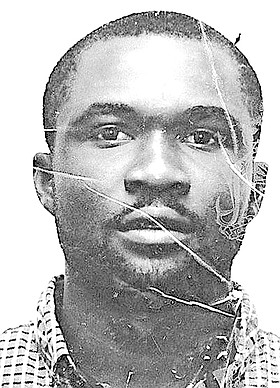 CLEAVY EVERETTE WHYLLY
unknown - unknown
Funeral Service for
CLEAVY EVERETTE WHYLLY, 40
a resident of Green Castle, Eleuthera, who died August 3rd, will be held Saturday, August 26th, 2017 11:00 a.m. at St. Michael's And All Angels Anglican Church, Green Castle, Eleuthera. Father Bradley Miller, assisted by Other Ministers of Religion will officiate and interment will follow in The Public Cemetery Green Castle, Eleuthera.
He is survived by his Wife: Guilouse Deja Whylly; Sister-in-law: Sharmaine Morley; Brothers-in-law: Terry Wright, Bernard Rolle; Mother: Rena Whylly of Green Castle, Eleuthera; Son: Cleavy Whylly Jr.; Adopted sons: Steve Gentlehomme & Orville Ferguson; Mother-in-law: Rosemin Deja; Father-in-law: Guillaume Deja; 6-Sisters: Doreen Wright, Priscilla & Renay Whylly, Lavell Rolle, Bernetta Brown & Linda Regis; 4-Brothers: Dean, Devon, Robert and Paul; 25-Nieces & Nephews: Stacy, Raynald, Larvado, Latoya, Brenell, Raneisha, Lateka Whylly of San Salvador, Tisheen, Valentino, Tori, Driskell, Rodgernique, Courthliyah, Ednisha, Disha, Brenette, Nicholas, Bernard Jr, Adriano, Breanno, Jadeoun, Deniro Morley; 3-Aunts: Lilly Burrows, Leona Whylly and Beatrice Brown; 2-Grandaunts: Elizabeth Butler and Yvonne Butler; 6-Uncles: Garnet, Carol, Neville, Austin, Carol (Punky) Brown and Dewitt Butler; 10-Grandnieces & Nephews: Billisha, Tanae, Deon Jr, Deniro Jr, Denyra, Tori Jr, Nathan, Brenique, David Jr, Tamia, Teanna & Tia. Many Cousins and Friends: Jimmy, Keith, Dale, Kevin and Fr. Bradley Miller, Edvardo, Tameka, Karen, Lenor, Geneva and Lunning Burrows. Marva & Dale Butler, Katie, Wendell Easter, Ida, Junior, Gregory, James, Earnest, Marvin & Sharmine Adderly, Chantell, Franz, Bertram Jr., Lashan & John Rolle. Sandra, Sabrina & Carlton Brown. Clarice, Stephanie, Paulette, Sherline, Sherene, Tyrone & Ryan Whylly. Busta, Della, Marsha, Edroy, Theresa, Teva, Maxine, Jenny & Peter Brown. Nurse Angela Thompson, Francine, Veona, Delroy, Betsey Hilbert, Bernal & Dennis Richards. Nisha Mcintosh, Cola Fowler, Floyd & Marjorie Deveaux, Millie Culmer, Verna Douglas, Curline Rolle, Kevie Richards, Pedro & Corey Young, Tracy Brown, Nestley Sweeting, Dillon Ingraham, Quinton Carey, Issach Adderly, Arinissa Rolle, Barbara Lightfoot, Vandella Storr, Kayla & Terry Lightbourn, Claudette Anderson, Mary Taylor and their respected families. Many other relatives and friends too numerous to mention.
Relatives and friends may pay their last respects at THE CHAPEL OF MEMORIES THE NEW COMMONWEALTH FUNERAL HOME INDEPENDENCE DRIVE Friday from 9:30 a.m-a2:00 noon and at the Church in Green Castle from 8:00 p.m. to service time on Saturday.