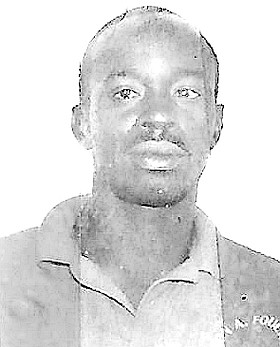 MERVIN "Dula" ANTHONY CLARKE
unknown - unknown
Funeral Service for
MERVIN ANTHONY "Dula" CLARKE, 45
a resident of Kemp Road, will be held at Church of God Pinewood Gardens Ministries, Willow Ave., Pinewood Gardens on Saturday, 26th August, 2017 at 11:00 a.m. Officiating will be Bishop Salathiel Rolle, Minister Kingsley Ferguson & Min. Omonique Jofere. Interment follows in Southern Cemetery, Cowpen & Spikenard Roads.
Left to cherish his memories are his mother: Albertha Bodie Curry; father: Mervin Clarke Jr.; sisters: Margurette and Rochelle Curry, Shenique and Tanargue Johnson; brothers: Craig and Ricardo Curry; 7 aunts: Minnie Rolle, Naomi Bodie, Portia, Crystal, Sophie, Stephanie and Laura Rolle; 4 uncles: Harcourt Bodie, Bishop Salathiel Rolle, Philip, Eugene and Wendell Clarke; nieces: Terrynique, Dervinique and Shandikah; nephews: Bernardo and Gavron Curry, Tyrone and Tahron Woods, Patrischo Curtis and Nicholls Augustine; cousins: Arnette, Theresa, Tonya, Rev. Oniel, Dwight and Charmaine Hamilton, Lorenzo Stubbs, Luciann Rolle, Steven, Mornette, Lennette, Tamika, Dwayne and Wayne White, Franklin, Keva, Desmour, Rochelle, Monique, Bradley, Martin, Vincent, PJ, Rerdy and Michael, Madia, Rolando, Deandra, Tenaj, Shakera, Crystal, Tisa, Roslyn, Antonio, Irwin, Shavargo, Valentino, Judino, Judikah, Justin, Tario, Paulette and Paul Davis, Michaela and Sonya Bullard and Antonio Pierre; a host of other relatives & friends including: Julian & family, Adderley & family, Steven & family, the entire Arawak Cay family, Ann's Town crew, William Lane crew, Kemp Road crew, Mr. T. & family, Five Pound Lot, Big Yard family, C. C. Sweeting staff & the Government High School family.
Friends may pay their last respects at Demeritte's Funeral Home, Market Street, from 12-6:00 p.m. on Friday & on Saturday at the church from 10:00 a.m. until service time.