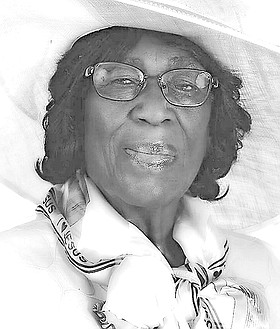 MINERVA FRANCIS PRATT
unknown - unknown
Funeral Service for
PASTOR MINERVA FRANCIS PRATT, 83
of Conch Sound, Andros who died on Tuesday, August 1st 2017, will be held on Saturday at 10 a.m. at The Church of God of Prophecy, Conch Sound, North Andros. Officiating will be Bishop Franklin M. Ferguson, assisted by Bishop Dr. Elgarnet B. Rahming and Bishop Caleb Evans. Interment will follow in Conch Sound Memorial Park, Conch Sound, North Andros.
She is survived by her 18 Children and (In-Laws): Pastor Nathaniel & (Jennamae), Albertha Pratt, Mable Pratt, William Jr. & (Bernadette) Pratt, Pastor Alma Russell, Ellavese & (Kervin) Godfrey, Capt. Glenroy & (Carol) Pratt, Eramae & (Nathaniel) Adams, Ezra & (Tanya), Benjamin & (Monique), Pastor Esther & (Dr. Warren) Jackson, Florence & (Hartmut) Meyer, Samuel, George & (Marilyn), D/Sgt. 2421 Ernest & (Kimberlee), Jessica & (Dentry) McKinney, PC 1570 Manuel & (Linda) and Valathon & (Sherry) Fowler-Pratt; Numerous Grand Children: Natheria, Patrick Pratt, Florina & Keith Russell, Randy & Nancy, WR/cpl 472 Nathalie Pratt, Ricardo & Karish Davis, Maxine & ASP. Marcus Sands, Lincoln, Sidney & Tanya Davis, Valderine & Alphonso Canter, Jason, Letisha Dean, Carvison, Billcot, Nurse Christina Pratt, Erene & Douglas Turnquest, Julia Russell, Inspector Royann & James Collie, Leroy, W/cpl. 3075 Marcia Russell, PC 3759 Kyle Godfrey, Tiffany, Christopher, Nathaniel & Paige, Nathania Adams, Renaldo, Turan, Britney Pratt, Mia & Mya Pratt, Samantha Braynen, M/S Heinrich, Heidi'Jo, Haruko, Haliah Meyer, MaKyle, Azariah Pratt, Gregory, Ramal, WM/S Lakera & Carlton Moss, WC/O Georgette, George Jr., Giorgio & Georgeio Pratt, Ernica & Javier Pratt, Dreah McKinney, Megan, Mandira & Rolance Jr. Pratt, Turan & Dr. Agatha, Travis Mackey, Mona Lisa, Sarah Soda, Seth, Aleiha, Kissy, Rudy Fowler Jr., Jerome, Tara Morgan, Peter, Emmanuel, Anthony Jackson; Numerous Great Grand Children: Nastaria, Nastario, Tylah Williams, Miracle Pratt, Kashawn, Keithan Russell, Destiny Newton, Kelsey Missick Jr., Rencine Munroe, Marquez, Marcquis Sands, Raquille, Shaquille, Kanaj, Giovanni, Diovanni, Kelder, Tnasjarya, Sidney, Sydneko Davis, Aniska, Vashti, Alphonso Jr. Canter, Danae Dean, Carvaneaka, Natalya, Carvison Jr. Pratt, Justin, Xavier, Taeyanno Pratt, Aaron Turnquest, Tanareo, Juton, WPC 3999 Jutonia Russell, Philisha, Juliette Neely, Perry Roberts, Syrus Richards, Kyleo Godfrey, Jaythan, Jayda Adams, Liam Meyer, Carlicia Moss, Jacoby, Taleah Russell, Shanari, Teddy, T'Ky Brennen, Isaac, Jonah & Legend Morgan; Great Great Grand Children: Junaz and Ju'ky Russell, Teej and Tyler Pratt and Raquille Davis Jr.; Brother: Lawrence Rolle; Adopted Children: Bishop Clarence & Minister Barbara Williams, Apostle Phalmon & Sophia Ferguson, Bishop Woodley & Veronique Thompson, Dr. Dionne Dames-Rahming, Dr. Deanna Bain, John Saunders, Karaganda Newton, Doral & Angie Miller, Administrator Ivan Ferguson, Bassiemae Storr, Ricardo Campbell, Hon. Vincent Peet, Stacy Hanna, Samuel & Delia Nelson, Cassandra & Inspector Jermaine Adderley, Apostle Helen Scott, Rev. Dr. Philip Campbell, Pastor Harvey Woodside, Pastor Julian & Valencia Johnson, Prophetess Michelle Russell; Numerous Nieces and Nephews: Leo and Othland Rolle, Prince & Zilpha Mackey, Randolph Mackey, Gloria & Bernard Evans, Marilyn, Patricia, Ettamae, Dennis, Larry, Kim Rolle, Betty Humes, Gloria Neely, Mispah Hall, Andre Curry, Stephanie Johnson, John & Betty Woodside, Irene, Rochelle, Earle & Alice, Nicole Lafleur, Antionette Miller, Henry, Bethram, Gregory, Nelson, Ernest, Pauline, Stephen, Renae Burrows, Lawrence Jr., Wendy, Freddie Munnings; Sister-In-Law: Otta Rolle; Godchild: Minister Dazzie Rolle; Special Friends: Minister Albertha Burrows, Monica Sweeting, Inell Williams, Nora McClain and Rev. Doris Tinker; Numerous Relatives & Friends including: Archbishop Patrick C. Pinder, Pastor Audley & Beulah Fowler & Family, Pastor Herbert & Barbara Walkes, Alexander & Dorothy Walkes & Family, Minister Iris & Andrew Dean & Family, Pastor Rosco & Audrey Walkes & Family, Pastor Jennifer Roberts & Family, Mary & Charles Rolle & Family, Ephraim & Sheila Lafleur, Wayne, Rodney, Ednal, Kendrick, Traves, Teddy, Peruz, Jeffrey Mackey, Ruth Clarke & Family, Garneth Brown, Merlie Major & Family, Valarie Basden, Yvonne Bannister, Kimberly Dean, Ruby & Darnell Evans, Bishop Caleb Evans & Family, Bishop Franklin Ferguson & family, Bishop Brice H. Thompson & family, Bishop Dr. Elgarnet Rahming & family, Bishop Joseph Swann & family, Bishop Rudolph Bowe & family, Bishop Andrew Brown & family, Pastor Timothy Johnson & family, Pastor T.G. Morrison & family, Pastor Chervol Gray & family, Luann Chea, Paulette & James Smith, Alphonso Smith & Family, Commissioner Ellison Greenslade & the Royal Bahamas Police Force, Pastor Barry Morris & family, Bishop Kendal Simmons & family, Thelma & Alvah Johnson & family, Jennie Johnson, Nurse Kadejah Abdul-Hadi, Cynthia Sargent & family, The Riley family, Jarenda Rahming, Daren Seymour, Daxon Family, Florine Knowles & family, the Sands family, Melanie Moss, Damaris Curtis, Shenicia Swan, Rufus Dean, Washington Lafleur & family, Donald Miller & Family, Edward Marshall, Leonard "Noah" Newton & Family, The Entire Lafleur Family, The Entire Marshall Family, The Entire Evans Family, The Entire Walkes Family, The Entire Miller Family, The Entire Mackey Family, Cindy Gay & Family, Bernard Evans, Barry Hall & Family, Evelyn Barr, Sis. Sylvia Strachan, Reinadell Marshall & Family, Hon. Darrol Rolle & family, Hon. Perry G. Christie & family, Patricia, Ann Pratt, Vanria & Shelly Rahming Oliver Curtis, Shanty Richards, Brenda Cunningham & family, Clara Evans & family, Kirkwood Evans & family, Michael Swann, Patricia Sands & family, Angel Mackey, Apostle Dorinda Dean, Apostle Samuel & Pastor Coralee Fowler, Linda, Nikkita, Natasha, Kizzy Sands, Pastor Marjorie Lafleur & family, Rev. Dr. E. John Newton & Family, Rolle & Poitier Families, New Mt. Pisgah Trinity Baptist Church, Cynteish Walkes & Family, Supt. Damian Robinson, Anne Francis, The Davis family, The Seven Hill's, Englerston, Shirley Street, church family, United Faith Ministries church family, Private Medical Staff PMH, The entire Church of God of Prophecy family, especially the North Andros District, Doctor and Staff at the North Andros Clinic, The Green family of Mangrove Cay, and the entire North Andros Community. If we have forgotten any family and friends, we do apologized.
Friends may pay their last respects at East Sunrise Mortuary, Baillou Hill Road & Cordeaux Avenue from 10 a.m. to 5 p.m. on Thursday and again on Friday from 3 p.m. until service time on Saturday in Conch Sound, North Andros.