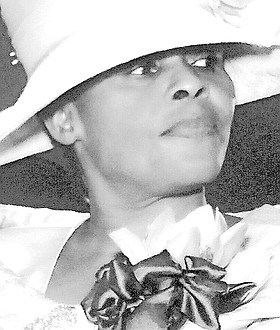 RUTHNELL "Mother Nixon" NIXON
unknown - unknown
Funeral Service for
MISSIONARY RUTHNELL NIXON, 65,
affectionately called "Mother Nixon"
a resident of Wemyss Bight, Eleuthera, who died at The Princess Margaret Hospital, August 14th, 2017, will be held Saturday, August 26th, 2017, 10:00 a.m. at Wings Of Deliverance Church Wemyss Bight, Eleuthera. Pastor Carl Nixon, assisted by Rev. Cloyd Miller and Bishop Aaron Nixon will officiate and interment will follow in The Public Cemetery Wemyss Bight Eleuthera.
Cherished memories will always linger in the hearts of Spouse: Bishop Daniel Nixon. Children: Michael, Bishop Aaron, Mackery, Loren, and Daniel Jr. Nixon, and Delta Blevins. Adopted Daughters: Lilimae Ramsey,and Annamae Pinder. Extended adopted daughters: Neka and Phillipa. Daughters In Law: Charrette, Karen, Karlean, and O'Cara Nixon. Son In Law: Christopher Blevins; Grand Children: Janeel Nixon, Ayden Blevins, Aaron Nixon Jr., Avery Blevins, Dante Nixon, Albert McKinney, and Andrew Kemp. Sisters: Tericita Miller, Maud McPhee, Janet McPhee, Firstena McPhee, Euleta Bain. Brothers: Joeherda, Phillip, Errol, David, Ivan, Roosevelt, Lankley McPhee, George Bain, Alexander Burrows.Cousins:Beverly Brown, Diane, Julie, Garfield, and Shelley Pratt, Deneria Butler, and Gaylean Maynard. Brothers In Law: Pastor Carl ,Olrice , Pastor Hartman Jr. and Lynen Nixon, Prophet Clyod Miller, James Young, George Brown, Bursil Bowleg, Andrew Thompson, and Selvin Richards. Sisters In Law: Agatha Brown, Missionary Charlemae Nixon, Vonnie, Christine, Myrtle, Melanie, and Joyce McPhee, Janet, Laverne, and Roslyn Nixon.Pearline Young, Genevieve Gibson, Cordella Nixon Bowleg, Magdalene Thompson, and Rebecca Richards. Nieces and Nephews: Anthony McPhee, Joederon, Jarred, Deborah, and Sharon McPhee, Monique Larrimore, Stephanie, Andrea, and Jasmine Cecchi, and Alex Maycock, Shenique, Arnishka, Swanson, Anastacia, Cloyd Jr., and Raynell Miller, Ereoshi Turnquest, Erolisa, and Errol Jr. McPhee, Tiffany, Theo, Terez, and Tvon McPhee, Ivan Jr. and Akia McPhee, Patrice and Starlyn Davis, Shantell Cooper, Keynell Wildman, Jamal Flowers, and Lashawn McPhee, Milton and Alfred McPhee, Dr. Jacinta Higgs, Joy Brown, Steven, and Manasha Mackey, Carvel, Carmelita, Charlene, Cindy, and Crystal Nixon, Shakera and D'Andrea Brown, Priscilla Sealy, Garry, and Patrice Young, Leterah Munnings, Shanette, Treniqua, and Cherise Nixon, Portia Williams, and Owanta Johnson. Hartman III, Travarez, and Alfred Nixon, Naresa Bandelior, Alonzo Hall, Jobina Bain, Joann Woodside, Lynette and Latonia Nixon, Magandrion, and Cyrilia Thompson, Geverne Gibson Sr., Selicia and Selvin Jr. Richards, Caffiann Smith, Regina Gibson, and Phillip White. Along with other numerous nieces and nephews. Special Friends: Violet Thompson, Mr. and Mrs. Charles Rolle(cousins), Mr. Walter and Evangelist Carnetta Ferguson(cousins), Rev. Dr. Mavis Thompson(cousin), Garnet Thompson, Bishop and Mother Ernest Sweeting, Constance Martin, Rosemary Musgrove(cousin), Agnes Jolly, Irene Smith, Mr. and Mrs. John Wright., Eulease Thompson(cousin), Clara Williams, Sheila Johnson, Shavagala Knowles, Fredericka Minus and family(cousins), Denise Gibson, Mozena Young, Mrs. Earlene Thompson, and Mother Lizerene Hall, The entire Wings of Deliverance Church Family, each and everyone of you are special, The entire Bannerman Town Community The entire Assemblies of God Church Family, The Wemyss Bight Community, and the The Princess Cays Crew. also, many other special friends and family, too numerous to mention.
Relatives and friendw may pay their last respects at THE CHAPEL OF MEMORIES THE NEW COMMONWEALTH FUNERAL HOME INDEPENDENCE DRIVE Thursday from 3:00-7:00 p.m. Friday from 9:30 a.m.-12:00 noon and at the church in Wemyss Bight from 8:00 p.m. to service time on Saturday