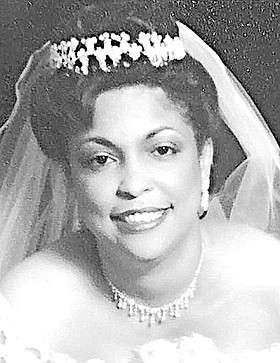 SANDRA LAVERNE DELEVEAUX
unknown - unknown
Funeral Service for
SANDRA LAVERNE DELEVEAUX, 50
of Fire Trail Road, who died on Sunday, August 13th 2017, will be held on Saturday at 11 a.m. at Southside Christian Church International, Carmichael Road West and Dignity Gardens. Officiating will be Apostle Dr. C. Clifford Smith III assisted by other Ministers of Religion. Interment will follow in Lakeview Memorial Gardens, J. F. K Drive.
She is survived by her Husband: Nickey Deleveaux; Mother: Inez Cooper; Stepfather: Arthur Cooper; 1 Sister: Nicole Turnquest; 1 Brother: Dion Turnquest; 13 Aunts and (In-Laws): Lilian, Agatha and Verna Wells, Rosena (Doddridge) Hunt of Long Island, Gwendolyn (Ron) Adderley of USA, Geraldine (Kenneth) Sands, Katie (Eddison) Key of Abaco, Olivia Turnquest of Deadman's Cay, Nellie Wells, Sandra Evans, Marion, Lorinda and Sandra Cooper; 4 Uncles: Voines "Tony" Turnquest, Austin Burrows, Andre and Wilson Cooper; 3 Nephews: Nicholas Turnquest, Patrick Williams and Deon Murphy; 2 Nieces: Kenise Deleveaux and Ashley Moss; Father-In-Law: Rev. Lockwood (Florence) Deleveaux; 3 Sisters-In-Law: Katrice Deleveaux, Carla Beneby and Lakiesha Moss; 3 Brothers-In-Law: Lester, Wilco and Gerrad Deleveaux; 2 Godchildren: Christopher Hall and Terrell Bonaby; Numerous Cousins: Gene, Dr. Christa Wells, Louise, Mark, Ricardo, Lashan, Jermaine, Jamal Wells, Ashely Burrows, Jacklyn, Collin, and Cheryl Turnquest, Karenza Prude of USA, Kathryn (Michael) Jones, Dexter Hunt of USA, Damien, Georgina, Donnell Hunt, Ethan Clarke of USA, Dr. Kenneth Jr Sands of USA, Germaine and Tenielle Sands, Tanya and David Sears of USA, Tara, Vanessa, and Reina Turnquest, Jordell, Everette, Latisha, Terrell, Latoya, Stefardo, Stanran, Tiara, and Sheree Butler, Virginia and Regina Thompson; Special Friends: Apostle Clifford and Pastor Judy Smith, Greta Thompson, Millicent Bylie, Lilla Smith, Pastor Christine Bonaby and Temple of Prayer Deliverance, Christine Ferguson, Diane Johnson, Christine Adderley, Chef Tiffany Lynden and family, Annice and Foster Tucker, Delorin Ferguson, Anthony McPhee, Elder Lorene Johnson and family, Ketura McKinney, Leah Scavella, Netta Culmer, Robin Culmer; And a host of other Relatives and Friends including: Tamara Lundy, Menerva Gray, Thelma and Florence Gibson, Robin Curry, the Wells, Turnquest, Deleveaux and the Moss Families. The Darville, Cartwright, Adderley, Hunt, Watkins, Dames, Hamilton, Smiths, Apostle Clifford and Pastor Judy Smith and the Thompson Families, the B.O.S.S family, the Hillside Missionary Baptist Church Family, the Southside Christian Church Family, and Laborer's in the Vineyard Prayer Group; Special Thanks to: Dr. Wesley Francis, Dr. Duane Sands, Dr. Humes, Dr. Nevien Girgis, Nurse Butler, Nurses and staff of Doctors Hospital, the Atlantis Culinary Team and the Common Kitchen Staff.
Friends may pay their last respects at East Sunrise Mortuary, Baillou Hill Road & Cordeaux Avenue from 10 a.m. to 6 p.m. on Friday and again on Saturday from 10 a.m. at the church until service time.