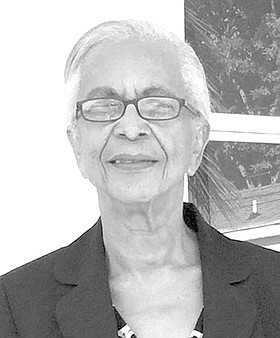 Florina "Flo" Persis Sands
unknown - unknown
Funeral Service for Florina Persis Sands age 81 affectionately known as "Flo" of Rock Sound Eleuthera, who died at her residence November 18th, will be held 10:00 a.m. at Church of God Rock Sound, Eleuthera. Reverend Bradley Ferguson assisted by Reverend Pascale Saunders will officiate and interment will follow in the Yellow Ground Public Cemetery Rock Sound Eleuthera.
Florina's life will be cherished and forever linger in the hearts of:
Siblings: Philip (MaryAnn "Zeta") Sands and Helen Smith
Nieces and Nephews: Children of the late Iris Maynard - Robert (Cynthia), Sonia (Percy), Gregory, Eric (Sharon) and Andre; Children of the late Marjorie Patton - Daphne (Sam), Antoinette (Ralph), Marcia, Edward (Dawn), Karen and Simeon Sr. (Debra); Children of the late Lois Turnquest – Fern (Derek), Nicoya (Dr. Michael), Paige ( James), Kim (William), Michael (Carla) and Brent (Shamara); Children of Helen Smith – Rhonda (Steve), Derek Jr. (Meredith), Byron (Dionne) and Julian; Children of the late Cleora Saunders – Rochelle (Anthony), Florence (Hernandez), Lisa, Theresa, Charmaine, Colleen, Eloise (Michael), Ryan (Bridgette), Philip (Toya) and O'Neal; Children of Philip and Mary Ann Sands – Kahlia, Katora (Dr. Jason), Bradley (Gail), Lisa and Gregory. Children of the late Jan Saunders who were like her children – Asia, Aiesha, Janay, Jovan (Marisha), Megan and Isaiah. Numerous grand and great grand nieces and nephews.
Aunts: Vera Carey, Florence Morley, Merle Sands and Alma Cartwright.
Numerous cousins, relatives and friends including: Doreen Deveaux, Kernita Sands, Helen Davis, Larry, Robert and Carter Forbes; Dr. David, Kendal, Steven, Ethel and Julie Sands; Errol & Hazel Sands & family, James Sands & family, the families of the late Loise Smith, Jehu Sands and Henrietta Knowles, Children of Vera Carey and Florence Morley; Keva Rolle and family; Reverend Bradley and Kayla Ferguson; The Church of God Rock Sound Church family; Bishop & Mrs. Philemon Wilson, Monique & Sean Symonette & Family, Juliette Mackey & family, Ambrosine McSweeney & family, Garnet & Rose Hall, Breon Leary & family, God-daughter Wendy Curry, Cranston Curry & family, Eulamae Symonette, Murietta Major & family, Anselm Symonette & family, Emerson Horton & family, Iris Cartwright & family, Brenda Carey & family, Ray Carey & family, Marionette Hall & Family, Harrison Horton and family, Breon Leary and family; Norris "Giant" Carey, General Taylor and family, Harrison Lockhart; Junior McSweeney, Veta Sands & family, Margaret Ward & family, David Carey & family, Tony Sands & family, Vandolyn Sands & family, Tony Symonette & family, Merlease Bethel & family, Delona Sands & Family, Samuel Johnson Sr. & family, Robert Sands & family, Violet Knowles & family, Cita Francis & family, The Saunders Family of Harbour Island and the Rock Sound community.
Special thanks are extended to Dr. Frederick Smith and his medical team, Dr. Sidney Smith and the Staff of the Rock Sound Clinic.
Relatives and friends may pay their last respects at THE CHAPEL OF MEMORIES THE NEW COMMONWEALTH FUNERAL HOME INDEPENDENCE DRIVE Friday from 9:30-11:30 a.m. and at the church in Rock Sound from 8:30 p.m. to service time Saturday.