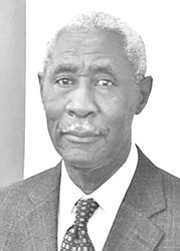 Ret. Sgt. Cyri Augustus Walkes
unknown - unknown

Semi Military Funeral Service for Ret. Sgt. Cyril Augustus Walkes, age 68 of #68 Hyacinth Ave, Garden Hill #1 who died on Thursday, November 16th, 2017, will be held on Saturday, December 2nd, 2017 at 11 a.m. at Southwest Cathedral Church of God, Carmichael Road. Officiating will be Rev. Dr. Moses Johnson, Bishop Carlton Stuart, Bishop Joseph Smith, Bishop Donnie Storr, Rev. Eileen Johnson and Father. Stephen Davies R.B.P.F Chaplain. Interment will follow in Lakeview Memorial Gardens, J.F.K Drive.
He is survived by his  Wife: Berthalee Walkes; 2 Sons: Cyril Reynaldo Walkes and Curtis Walkes; 2 Daughters: Professor Krista Walkes-Francis and Melinda Walkes-Bain; 2 Sons-In-Law: Deno Francis and Darren Bain; 8 Grandchildren: Cyron and Cyara, Alexis, Alex and Darren Jr., Curtis Walkes Jr., Shanticara and Tanja; 2 Brothers: John and Benjamin Walkes; 4 Sisters: Gloria Walkes, Patsy Ferguson, Betty Charlton and Janet Gray; 6 Sisters-In-Law : Senora Gilbert, Ruth Edgecombe, Janet Gilbert, Rev. Dorothy Bain, Val and Mavis Walkes; 3 Brothers-In-Law: Alan "Candy" Gilbert, James Gilbert and Leonard Edgecombe; 13 Nephews: John Jr., Emmanuel, Daniel, Ramando, Shane, Garth, Mario, Demetri, Demarco, Orthniel, Fletcher Jr., Darron and Darren; 18 Nieces: Noralee Martin, Nickelle, Shanteel, Kimberly, Shonique, Cyniara, Kenva, Portia, Lynn, Ventura, Danita, Shandrea, Sherrymae, Eloise, Nickola, Charlene, Melvern and Vernice; 5 God-Children: Destiny Delancey and Casey, Kirsten, John and Christian Mazuir; Other Relatives  including: 2 Adopted Sons: Alonzo Saunders and Norman Solomon; Sandra and Naomi Walkes, Dencil Barr, Jessypearl Saunders, Josephine Parker, Beth Stuart, Coral "Coco" Bastian, Firstina, Effie Walkes, Mae and Joan Rolle, Lionel Gilbert, Kevin and Keshia Gilbert, Everett Johnson, Judy Strapp, Rev. Jeoffery Johnson; Friends: Eva Lee & Anthony Canady, Renardo and Angela March and the Entire March family and Joseph Williams of Riviera Beach Florida, Charles & Joanne Singletary of Miami, Florida, Leroy and Maxine Reid of Perth Amboy, New Jersey, Rosetta Clarke, Elsa Thompson, the entire F Squad of 1970, James Curry, Danny Wilson, Branville Mcminns, William Albury, Rev. Leon Johnson, Vincent Charlton, Reginald Ferguson, Paul Farquharson, Livingston Davis, Claudius Hall, Ronnie Lotmore, Alan Cleare, Valderine Bell, Mr. & Mrs. Burton Smith, Angela Adderley, Elaine Edgecombe, Vivia Young, Sharon Turnquest, Ruthmae Meadows and Family, Lenora Mcintosh, The Entire Family Medicine Clinic, Member of Parliament for the Garden Hills Constituency-Brensil Rolle, Cordell and Violet Delancey, Renaldo Johnson, Monique Deveaux and the Entire Garden Hills #1 Community, Florence Small, Roosevelt Mckenzie, Rev. James Sweeting and Family, Marianna Francis and Family, Rev. Moses Johnson, Bishop Donnie Storr, Rev. Eileen and Dr. James Johnson, Rev. Joseph Smith, Rev. Shirley Smith, Marilyn Brown, Wenzel Newton the National Layman's President, The Entire Lighthouse Fellowship Church of God Family, the Entire Independence Drive Church of God Family, and the Entire Church of God, Bahamas, Turks & Caicos Family, Bishop Deanza Cunningham and the Entire Christ Community Church Family, The Entire United States Embassy, Nassau, Bahamas Family—especially Pauline, former colleagues from Government House and  The Entire Gibbs Corner, Strachan's Corner and Thompson Lane Family.
Friends may pay their last respects at The Paul Farquharson Centre, East Street Hill from 10 a.m. to 6 p.m. on Friday and again on Saturday from 10 a.m. at the church until service time.